Forex forecast for EURUSD for next trading week — October 15-19, 2012, which is based on the rules of graphical analysis and strategies of this site
Recommended Brokers Forex with MetaTrader 4
Analysis of closing the week on important price levels:
1) The week closed the black candle with a long tail bottom, but still below the dark blue line is the long-term trend.
2) The daily candle closed Friday after all candles retest the same trend line for sale
Important price levels that are above the closing price of the week: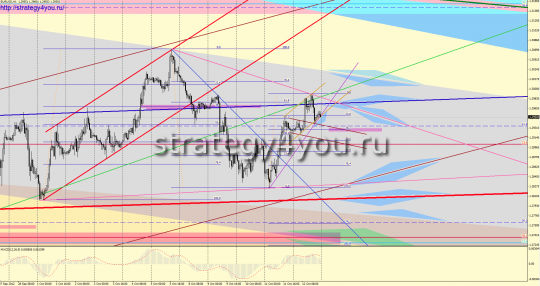 1) retest the trend line + purple light brown line of the channel bottom up — consider options sales.
2) Blue long interested mainly in the interval H4-D1, that is, the price closed relative to it. Above + retest top — consider buying below + retest bottom — consider options sales.
3) Pink upper trend line — a similar situation. It is also possible the combination of this line with the line (2).
4) The gray background channel line — when approaching from below — consider options sales, at least temporarily, as it is the third approach to the price of the line, but the sample is most likely still up. Hence the sample and retest of the top-down — consider options for shopping!
5) The green line is the long-term channel — write about it will not, as described in detail in the past signals forex forecast for the week.
Above also do not see the signals and resistance levels for the price, as they are described in the last forecast.
Variants of the resistance to movement of the price below the closing price of the week: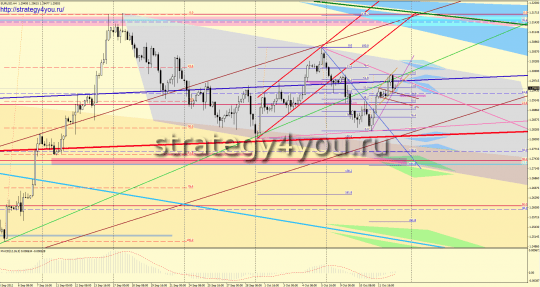 1) 38.2% Fibonacci retracement of the move up Thursday-Friday + retest brown small channel flag — can hang up, although I think it will be temporary.
2) Brown uplink channel — top approach — can hang up. sample and retest of the bottom-up — are considering selling.
3) Pink line upward trend, based on recent lows movement in the gray channel.
4) Red long-term — care is closing day on this line, and the best of the week!
5) The upper limit of the orange channel — can hang up or below it on the go and return above + retest top down — are considering a purchase.
6) The most important level of resistance still think the bottom line of the gray cluster of Fibonacci Channel + 38.2 + 61.8 + 161.8%. Retreat from this level is quite possible, at least to retest red. But beyond all = still looking at the closing of the day, as the downward movement may well continue! Hence the breakdown of the channel and its retest of the bottom-up — be an option for future sales.
7) Blue Line Canal + long-term level of 61.8% Fibonacci — consider the purchase. Breakdown of the channel, a daily close below it — consider selling!
At this point until the entire forecast for the next week …
Download a template for MetaTrader 4 for EURUSD — 14_10_2012_eurusd.tpl (previously to decompress and put in the MT4 terminal or download the chart: If you «get off» trend lines, channels, reformats them according to pictures in the forecast)