Weekly Forex Forecast (18-22 March 2013) on the EURUSD, the rule-based graphical analysis of forex strategy forex and graphics site
Brief analysis of the closing weeks of the currency pair EURUSD, relatively important resistance levels:
1) The week closed a white candle with a long tail bottom, with candles release from the channel line + red flag term trend line.
2) Day Friday closed just buy candles, but with a little tail on top.
3) The range of H1-H4 there was a breakdown brown trend line and the first retest the same trend line, which means it is quite possible the beginning of the correction to all the downward movement with maximum 1.3710.
Variants of the resistance to movement of the price above the closing price of the week: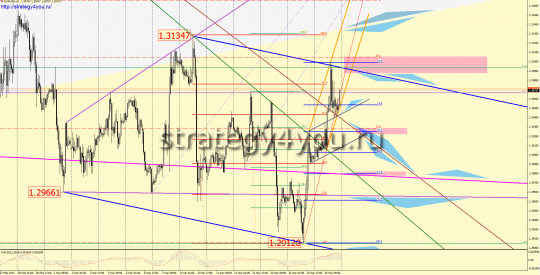 1) The blue line channel — another approach to it — can be at least a temporary rebound. Break up + retest — a buy signal.
2) 38.2% Fibonacci dotted red — can hang down to retest the blue channel.
3) The background blue channel — interested in the behavior of its price relative to the H4 — D1-W1. When approaching from below — rebound is possible, but in case of breakdown up + retest after closing D1 — most likely to move up!
4) Accumulation of Fibonacci 38.2% Green + red dotted 61.8%.
5) The purple trend line
6) Orange line trend — look at the closing of the day and week, with respect to this line.
7) The blue line is the trend — the same way.
8) pink background channel.
The resistance levels are located below the closing price of the week: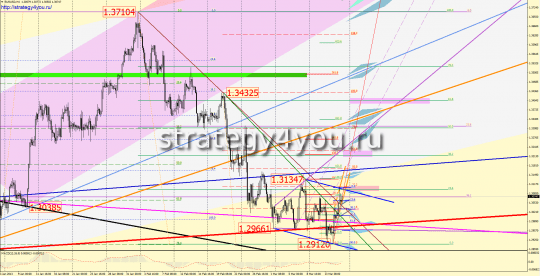 1) Grey small channel — possible release at least a temporary top.
2) retest brown channel + level of 38.2% Fibonacci retracement of blue — can hang up. Break of brown + channel his retest — consider options for downward movement.
3) Purple trendline + 61.8% blue — hang up is still possible, at least temporarily.
4) Purple + Green + retest the trend line from the bottom-up — consider options sales.
5) The blue line is the lower channel + 50% Fibonacci purple — is the third price hike, so hang up a minimum of time is possible, but the sample is most likely, therefore retest of the channel bottom — a sell signal.
6) A black line channel long-term — care closing days and weeks about her.
That's all the forex forecast for EURUSD for next week.