Forex Strategy BeeJay — TS indicator, which is not pritenduet the title of the best trading strategy, but thanks to its versatility makes it possible to earn at least 500 pips per month (as the author of this system), and it is based on standard indicators, Metatrader 4: Moving Average, CCI and RSI.
Time-frame can be arbitrary, but recommended M15 and H1, H4. The currency pair may also be arbitrary, but testing strategy was held (during the 2-hat) on the EURUSD, AUDUSD — Scalping on the M15, as well as the GBPUSD and EURUSD — the longer-term trade: H1, H4.
On the schedule for the chosen currency pair, we establish:
Exponential Moving Average EMA (8) — blue color, applied to a close.
Simple moving average SMA (26) — the color orange, to apply to close.
Indicator Commodity Channel Index — CCI (55) — applied to a close level «0».
Indicator Commodity Channel Index — CCI (34) — applied to a close level «0».
Oscillator Relative Strenght Index — RSI (26) — applied to a close level of «48.»
as well as an additional indicator Parabolic SAR (0.02, 0.2) — for the installation and rearrangement of stop-loss.
The rules for transactions on forex strategy BeeJay.
Conclude a deal to buy if:
1) EMA (8) crosses the SMA (26) from the bottom up
2) CCI (55) and CCI (34) cross the zero line as a bottom-up
3) indicator RSI (26) crossed my level 48 upwards.
Transaction should be opened after all the points (1-3) no matter in what order, but at the opening of the next candle after the confirmation of all the signals!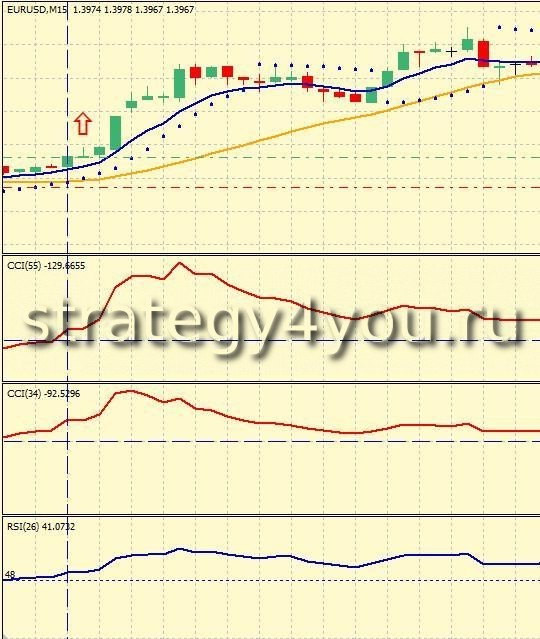 Do not open the deal to buy if the candle closed Bear (Dodge, etc.) a candle, or vice versa — no need to open a deal to sell if the candle is bullish signal.
For transactions on sale — check the conditions!
Stop-loss is set on the indicator Parabolic SAR. For transactions on the purchase — at the near point located below the price. For transactions on sale — over the nearest point above prices.
As the price movement and drawing points PSAR, stop-loss swap, respectively, along with him. For these purposes, you can use a universal trailing stop, which has built-in trailing by PSAR.
Take-profit depends on the chosen currency pair and time-frame and approximately varies within the following ranges: for M15 — 20-30 points for H1 — 100 points for the H4 — 200-500 points. Just a deal can be closed in the inverse signals of the strategy or forex trailing stop.
Download a template for Metatrader 4 — beejay_ts.tpl (pre-to unzip)