EURUSD Weekly Forex forecast: 11-15 March 2013 based on the rules of graphic analysis, forex, forex strategy website
Brief analysis of the closing weeks of the currency pair EURUSD:
1) The week closed with black candles with small body and a long tail on top, presumably spark further downward movement, especially as it is the background of blue candle retest channel.
2) Friday closed the black candles, but with a long tail bottom, so can be rolled back up, especially as the market supposedly formed the expanding triangle.
Resistance levels, moving above the closing price of the week: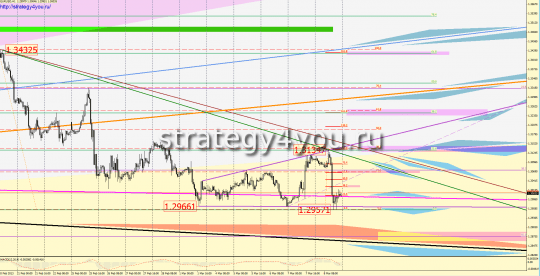 1) The green trend line + possible level of 61.8% Fibonacci red. Approach from below — consider the motion down, breakdown and retest — up.
2) Brown trendline + possible background blue color channel. Interested closing date on these levels.
3) Blue background Canal + zone Fibonacci 38.2% of red dotted color + 23.6% green — are interested in closing days and weeks.
4) The upper trend line purple + is possible cluster of Fibonacci levels: green 61.8% + 61.8% Fibonacci red dotted
5) Orange line trend — interest closing days and weeks on this line!
6) 61.8% Fibonacci green
7) The blue trend line — just interested in closing the day on this line.
8) The background lilac channel
Resistance levels are below the closing price of the week: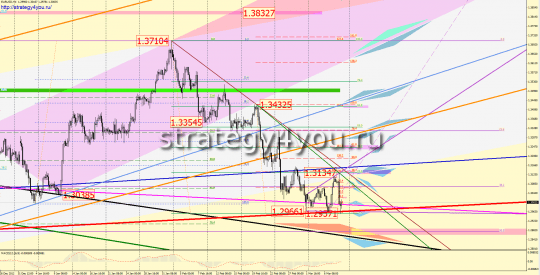 1) purple line flag — still in force! As you can see, the line is still holding back impulses price movement down. Therefore hang up and closing H4 candle lights out — can still be seen as a signal to buy or at least hang up.
2) The bottom line of the expanding triangle purple. Interested breakdown down and retest for the downward movement.
3) 50% Fibonacci Violet Black + channel line long! — Significant level of interest and close relative of the line of the day and week. Formation of topping combinations up — the signal to retreat.
If the price breaks through the line still going down and retest at the bottom and the bottom of the week — a signal to sell.
4) 61.8% Fibonacci Purple + green trend line — quite possible hang up.
that's all the resistance levels at this point …
All that I can say personally from myself in the expanding triangle trade is difficult and not very convenient, therefore it is better to wait for it to break one of the parties to enter and retest to buy or sell.
As it is necessary to monitor the situation during the week, it is quite possible it will be more clear.
As it is necessary to consider the possible formation of a flag on sale, as a flagpole shaped very good.