Weekly Forex Forecast (25-29 March 2013) on EURUSD, rules-based graphic strategies forex this site
Brief analysis of the closing weeks of the currency pair EURUSD, relatively important resistance levels:
1) The week closed with a tail of white candles from the bottom, and got close above the channel + red flag term trend line.
2) Sunday closed white candles
3) But it is not GAP Monday closed!
4) On Friday, the following will be closed the month of March. At this point, the candle has a small black body and a long tail bottom, so a month is quite possible and indicate the priority for future price movements.
Please note that the price is in a very small hallway and not only did not reach significant levels of resistance, from which release is possible, so it is still important to wait for these taps or breakdowns in order to understand what will happen next in the market, as long as they do not account for trade correction and not always in a good yield movements …
Variants of the resistance to movement of the price above the close of the week: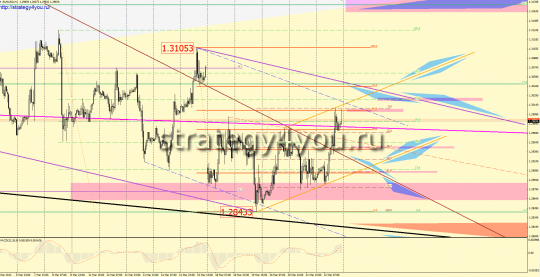 1) 61.8% Fibonacci + green dotted orange line channels — quite possible hang down.
2) Purple Line Channel + upper level of 61.8% Fibonacci Green — same. Break the purple channel line up + retest — a buy signal.
3) Orange Line Channel — an approach from below — can hang up, breakdown and retest the top — move up. About this may be closing a gap of 18 March, and so on down the release of at least a temporary one.
4) 38.2% Fibonacci green + blue background blue + channel long-term trend line — the closure of the day care on this level, but I assume that hang down quite possible! If after that there is a breakdown up + retest top-down — be an option upward.
5) Orange + trend line level of 61.8% Fibonacci retracement of green — a similar situation.
6) The blue trend line — just interested in closing the day on this line.
7) pink background channel.
Variants of the resistance, the price moves below the close of the week, and thus the possible signals for forex transactions as the sale and purchase: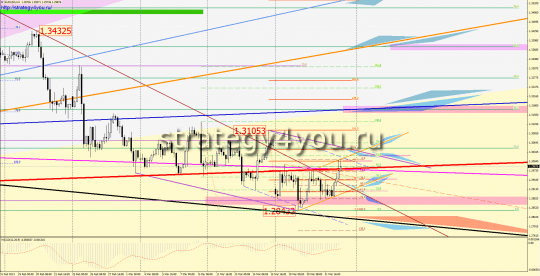 1) Lilac trendline certainly interested, but still by and large to close the day as many times already broken. On the same level now and is a red long-term trend line.
2) 38.2% Fibonacci + brown dotted possible red dotted trend line or orange line channels — it is quite possible at least a temporary rebound. Break of orange and retest — the signal for the sales.
3) Brown trendline + orange line or channel level of 61.8% Fibonacci dotted brown — can hang up, line break orange and brown and retest the bottom — the signal for the sales.
4) The black line channel. There are some mistakes by construction, it is possible to build on different extremes, at different intervals, this line is constructed so that it was already a big retest on H1 yet …
But I still think that we are interested in this line retest is on H1, therefore approach the top and low census last week — a signal to release for sale. Of course have to wait pivot combination for the purchase and closing of the day and week, with respect to this line. Still, if there is a line break down and retest at least after the close of the day — consider options sales.
5) 61.8% Fibonacci Violet around the upward movement.
6) The green line channel.
7) Background orange channel.
That's all the resistance levels at this point …
Do not forget this Friday — may surprise! Although for me, it is better to at least some movement (even with surprises) than any.