Forex Strategy «10 points for the EURUSD»
has an infinite number of varieties and what it is similar to the strategy Session Breakout, 
and are working on it,

many professional traders

, so if you combine it with the proper risk management, we can achieve very good results when trading forex.
The strategy forex «10 points for the EURUSD» as follows:
For a basis of the strategy taken maximum and minimum of the previous trading day. Most of the trader believes that if the specimen is the level of the previous day, the price goes up, and vice versa for the minimum.
Therefore, usually these two peaks are used again, most part of forex traders as a stop-loss orders. Therefore, given this fact — if the price breaks at least the previous day, it will work stop-loss, and because of this price movement in the forex market will continue for some number of points. Accordingly, for the maximum — in fact the same rule, only in the direction of purchase!
Knowing these facts, we will earn profits if the deal will open for purchase, with breakdown of the previous day and for sale, with minimum breakdown of the previous day.
But since another category FOREX traders use the same 2 points as the level of support and resistance, then the price is not always move in the direction of penetration of the maximum and minimum of the last day.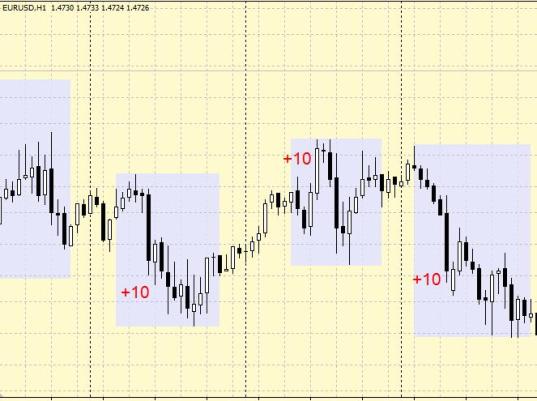 Recommended currency pair: EURUSD
Exhibited pending orders are valid from 00.00 GMT to 00.00 GMT on the following day.
1. Exposed in 00.00 GMT 2 pending orders — 1 in Buy (above the previous day's maxim +2 points), and 1 on the Sell (below the low of the previous day — 2 points).
2. Set the Take-Profit — 10 pips.
3. a safety stop-loss — 30 pips.
5. An important feature: pay attention to only a 1-s crossing the high or low during the trading day (if  the pending orders have closed for the stop-loss or profit, the more orders that day not display!)
Recommended risk — 2% -5% of the deposit on each transaction.