Forex Strategy «Dzhankone for 5 minutes» — to trade on the forex strategy, I recommend first download and read the «Manual on pin bars«, and only then proceed to the development of the tactics of forex trading.
Pin bar looks something like this: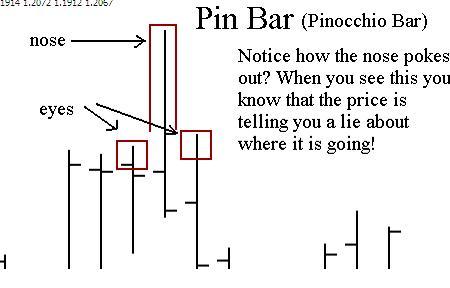 Good Ping bar should have:
- Snook (compared to body)
- Granted a very forward
- Opening and closing the pin should be next
I remind you that more information about Ping bars you can find here: «Textbook of pin bars«
The technical side of forex strategy:
To trade forex strategy «Dzhankone for 5 minutes» should be slightly adjust the price chart, namely:
1) Set the indicator RSI (6), it will be used to find the divergence.
2) Set the indicator Bolinger Bands (18,2), we use for finding a trend in the market. And you can trade from its limits in the presence of a lateral trend, and in the presence of pins.
3) Set the averages 50 SMA and 21 EMA — are needed to determine the trend in the market.
I recommend trading in the following currency pairs: eurusd, eurjpy, gbpusd, usdjpy.
Timeframe — 5 minutes (M5).
Forex Strategy «Dzhankone for 5 minutes, consists of 2 relatively simple signals. However, one should always remember that the very best deals on the Forex — a transaction entered into by the trend.
1) The first trade signal — a PIN bar itself and the presence of a trend. If there is a divergence — this is still the best versions for the transaction.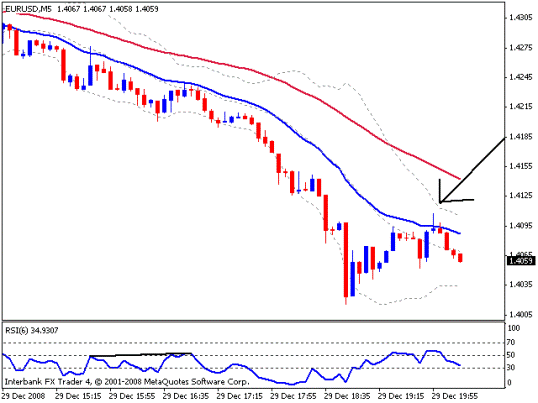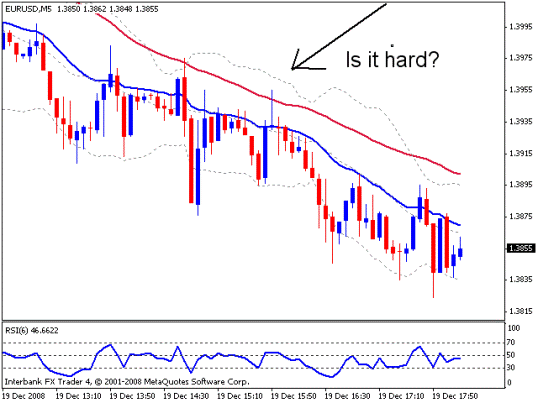 Figure 2.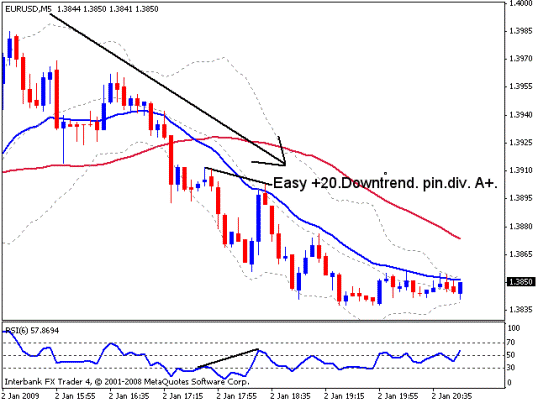 Figure 3.
And this signal is quite enough!
2)
The second trading signal
called CT —
counter trend
— that is, «
Against the trend
.» Again, all very, very easy:
Diverging + Pin Bar
. Look at the price chart:
if there is a pin bar and divergence
— it's just an
excellent deal
!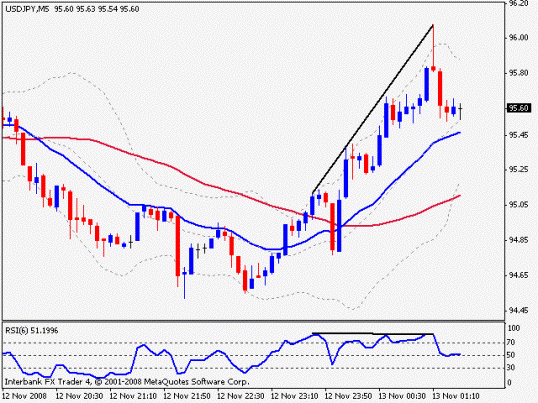 Figure 4.
Desired
Teyk-Profit: 15 pips
at the conclusion of the transaction against t
he trend mostly to good purpose — 21 moving average
.
Stop-loss is usually to install a few pips below or above the pin. Or behind the line of support or resistance.
Good assistant in this forex strategy would be
trailing stop on a trip
, which quickly rearrange the stop loss to breakeven and will rearrange it into a profitable area, even in the range from 1 to 15 points (but recall that this quantity depends on the terms of trade you have chosen
Dealing center
).
However, remember
that you should not make deals, if your ratio of profit to loss is less than 1 to 1, or even better 2:1
.
It's also worth to note that the pins must be on top of a cavity and not in the middle of congestion pricing.
And the most basic — does not violate rights!