Forex Strategy «Trading in the News» — a strategy for which I traded for some time early in his career and which gave a trader at one time very, very good dividends from, and although this strategy was not invented by me, but was tailored to the market in order time (this was 3-5 years ago).
Frankly, I do not want to publish this strategy because whether it will work now, I do not know … He had made the same post, because Many traders I constantly ask: «How to trade on the news?», «What news is given a good impetus?», «Do you have a trading strategy on the news?», etc. And also, some argue that trade on the forex and the main income need not know anything — you can just sell on the news and everything will be OK … But unfortunately Most of them are from trades or «penny» accounts or demo accounts .
Here is one example of the news for GBPUSD (interval M1):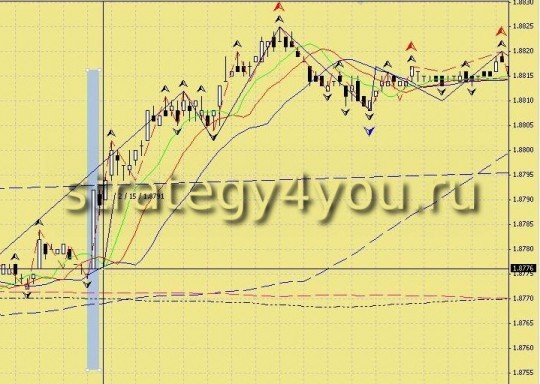 That is why, knowing how interested in this topic many traders decided to publish it and a little dust frustrate many «dreamers» of the forex market.
In this strategy, you will not find advice on opening transactions, I will tell you how I personally sold and a few of my friends traders how to earn with minimal risk and why this strategy has stopped giving a good profit.
Although at the moment, this strategy will be just marvelous to work on a demo account any Broker FOREX and occasionally will give a large number of profitable trades, but in real life — not sure …
And so are the strategies forex «trading on the news:
1) All the news trade is not necessary, there are a certain number of news stories that give a very good start, ie, momentum and open at the same time with a gap or the price is rapidly moving in one direction. Suitable only news outlet with which the price in most cases, namely 50% or better and 70% moves in one direction at least 2-3 minimum distance of indentation from the price (allowed by your Forex broker).
Here is a list of news (I must say that this list may be constantly changing — some news today work, tomorrow others) — at least it's a list of feeds to which you need to pay attention to:
UK
Retail prices
BoE meeting minutes
Retail sales
GDP
BoE meeting announcement
PPI
Trade in goods
ILO Jobless rate
BoE quarterly inflation report
Germany
ZEW economic expectations index
IFO business climate index
ECB meeting announcement (very rarely is the reaction)
ECB press conference
Canada
BOC meeting announcement
CPI
Retail sales
Employment
USA
PPI
Retail sales
Existing home sales
2) When the news of America — is chosen in the major currency pair GBPUSD, as well as the USDJPY (gives a good boost if the pound to the news, the dollar has already made a few rambling up and down movement at a distance of more than 10-20 points, or went in one direction and the dollar-ene is at the same time). Well or very important news — EURUSD, USDCHF.
With the publication of news on GBPUSD, EURUSD — of course sell the currency pair of the country, according to which the news.
When the news of Canada, Australia, New Zealand — choose a currency pair that country, contact the U.S. Dollar: AUDUSD, NZDUSD, USDCAD
When the news on the USDJPY, USDCHF, I personally have not traded since little sense in these news was not.
3) Each week you print his calendar forex news and notes those news items that will sell.
4) After this, all you have to do is go to the computer for 10.5 minutes before the publication of news, as well as synchronize their watches, that they go well and you understand what is happening in the market — there is a reaction to the publication of news or not.
5) Assume that the news Retail Sales for the currency pair GBPUSD at 8.30 in GMT. You have come to the trading terminal MT4, viewed what was happening in the market and select the interval M1 GBPUSD. If the price for this currency pair is in place — very good — it's around 70-80% of cases, an indication that after the publication of news market «explode» into some of the parties.
Although good news outlets are only periodically and not continuously — that's a fact! Ie 1-2-3 month news work out just fine, 1-2 months, middle, and then 1-2 months, the market may not react, even at a very important news. Then again, yields are good and so on.
Very good impulses give the news, which is not expected Most of traders, such as a sudden decrease in the discount rate to 0.5 basis points, and expected that the rate will not change. With such price changes took place (before) 100-200 points without stopping and, accordingly, if you're in the market in the right direction, then pick up your items 1000-1500 profits immediately!
6) Since news on the pound, we are putting two pending warrants for the breakdown (Buy Stop and Sell Stop) from the current price on 10-05-15 paragraphs (it all depends on fluctuations in the price and the time over which you place the order). If you place an order for 20-30 seconds before the release of news (the main thing not to miss), the news was important, and fluctuations in the prices of almost stopped, then you can safely put it at a distance of 8-5 points from the price.
The volume of transactions governed by the importance of news and her reaction, ie if the news is stable and well — trading the fullest extent possible, if the news is weak, but still gives boost sometimes — putting the average or the minimum lot.
For these purposes, I have personally used the trailing stop on a trip (just the perfect advisor for this strategy and generally to trade on the news, it is then I had applied for other purposes) — is fast and puts in a few seconds of pending orders with the specified parameters (stop -loss, take profit and trailing stop-loss or rearrangement of zero).
7) After the news announced price is usually sharp «moves» (if not «fly away«) to one side, and if your orders were issued on time, the broker opens them at the current price and you automatically are already in profit. After this it is necessary first of all to rearrange your orders in level «zero» or profit, and then remove the warrant did not work.
Then you or treylinguete data warrant at a safe distance from the price of 20-30 points, or includes the minimum trailing stop, your DTs allowed (eg 3.2 points — with the same trailing stop on a trip).
At the first fall-back your order is closed with a profit and sometimes even very good — and believe me, you will not be hurt that you do not have all the items — and you took so much (especially if you are trading a large lot).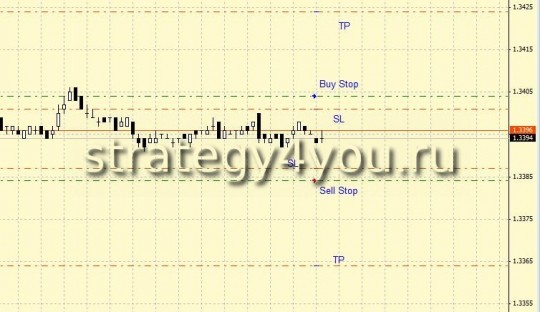 8) Stop-loss for this expose on the minimum distance allowed by your DC (again 2-3-4 points) or at a distance of 15-20 points — is optional, depending on how fast you want to close the deal and whether you have desire to keep this transaction at least a few hours or you want to close it immediately, at a profit.
But believe me, the 1 st option is preferable!
9) Take-profit put at a distance of 100 points (just in case) or do not bet at all — a position close to trailing, but it's better to put a profit — and suddenly you have a link propodet immediately after the issuing of warrants, and the price will come back and shut you to stop -loss — would be a shame and very …
Below is a couple of examples of news outlets from my collection: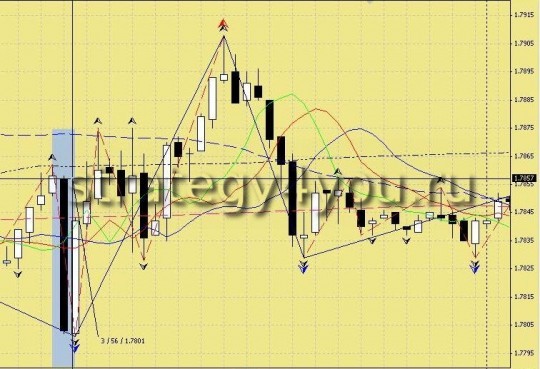 New home sales
ADP employment
That's the whole strategy of trading on the news.
Minimal and perfect, if not a few but …
Its advantages:
the risk of the most basic, if you trade a pair GBPUSD (1:200) — margin deposit for open positions: at the time when I was selling an average of $ 900. Ie while making a deposit of $ 1000 you open up a lot, respectively, at the risk of 30-40 $ (maximum 60-80) you with a good news outlet (70-100 points) making a profit $ 700-1000! — Agree it is just a dream! At the same time spend on such a salary maximum of 15 minutes a day. Well, if not open up a lot, but 3-5?? — Calculate …
And even if the two orders are blown off by the stop-loss, your loss is a maximum of 2 (2-3-4) points at oeme trade 1 lot is $ 40-60-80, but at a profit, the loss of overlap many times one transaction.
There have been cases that I have not even seen as open orders — you immediately notice the price of seeds and you have already closed a profit — that is, increased by an average of 2 times — even the second fails (just to see that blinked account balance and somehow increased, and although you start to worry — why not open an order? «- everything is ok: discover the history of transactions, opened and closed .
Feel just «King of the forex market» — a feeling that you tore the jackpot, especially if you see that all around and only lose money.
can only withdraw

cash and money — and do — all excellent!
Of course you see this «awesome» result of trying to increase their deposit, while not forgetting that the best money — this is when they are in your Cormany, not on account with a broker.
And now the cons, who appeared a little later (although I must say they are more hurtful than physical):
Yes, you earn money, they took off (1-2-5 times), but it turns out that your DC losses occur because turns out that the quotes for which you have opened the transactions were not the market — here's a first problemma (beyond that DC gives you their money, because of course none of your transaction brings to market)
Accordingly,

your score falls under the attention of your DC

and your transaction now begin to open up the market price — is at best, and even on the worst deals (by Khayyam and Lo) — and stop-loss as your standing and worth, and if price went in the opposite direction, your stop-loss, then here's a first big loss …
Likewise there are situations that DC lost connection to the news or worse immediately after the news.
Some brokers otsup increase the price to be placed pending orders
Some DC widen the spread, enter «level gap»
Or write in the contract that deal recalculated if closed in less than 1-2 minutes after opening
Well, or you have opened, everything is fine, shut down profit came to rest after a «nervous tension» with the resulting share of adrenaline, come as your transaction is revoked, recalculated with a loss, or are just starting to withdraw money — you counted it …
But the most «intelligent office» — just knock you tails inside the 1-minute (although in normal DTs such nebylo tail) and the price is or how to redraw the graphics on the next day.
In general, techniques that come up and come up with DC forex just a huge number and they are constantly improving.
After this course begin conversations — this DC «Ros .. s, they took my money, they have deceived me, but it is really all garazdo easier — it does not really market quotations and transactions in such quotations DC have the right to recalculate the (contract had to be read at the opening of the account — everything is written).
Well, or put yourself in the place of DC — you have gave so «clever» money from his Korman?? After all quotes that really was not in the moment the news of those that you ordered — and because the gap was formed!
If you want to trade at market quotations — to open accounts at companies with a floating spread (which is worse — believe me, the spread sometimes reaches up to 30-40 points, ie Most of stop-loss close to simply as «licks»).
Certainly attempt to deal with DC can be, and therefore was created expert adviser «NEWS» — a more advanced version of «trailing stop on a trip — there is already an automatic lifting of stop-loss if you have opened with a slide and a list of news is given, etc. . That's why there are no statistics — Advisor works fine, but here you're lucky if trade on the news or not — it's just you and your DC!
But trading on the news, you have to understand - the money you give will not be one, so all DC forex and trying to deal with «news traders». Want to trade with this broker — agree with it, but to hedge your transaction (within the company), even very large companies will be — it is a fact, whatever license they have not been — hedging (or rather overlap and display the remainder on the market) transactions is the foundation ANY DC forex! As the saying goes: «Check the hard way» …
I traded and American brokerage firms forex, Swiss, English, large Russian, Austrian, etc. — Believe the result is the same for all, as soon as you notice that you have earned on the news — you will be immediately put spokes in the wheel (and it happens almost immediately or after 1-2 deal)!
That's why I do not sell more on the news — it makes no sense and nobody do not recommend (as many are now on this will not work)!
Although the deal of course you sell or not …
Want to earn on Forex — trade in a quiet market, or bargain before the release of news in one of the parties, but be sure that the stop-loss at the time of the news is not guaranteed!
Or at least trade at a trading strategy on Nonfarm Payrolls — it seems to me the chances to earn at least there is!