Forex Strategy Forex Smart — 2 — indicator forex strategy that works well on the currency pair EUR / USD at an interval of H4, but since the deal did not happen so often, you can sell, and at intervals M15 and H1, sent this forex strategy was Pastukhov Sergei — this is the version of the strategy, which he transformed from forex strategy Forex Smart by himself and decided to share it with the users of this site.
And so, above all, set in the schedule for the chosen currency pair following forex indicators:
1. Moving average LWMA with 5, Linear Weighted Moving Average, apply to: Typical Price — HLC / 3 — choose the color blue.
2. LWMA moving average with period 14, Linear Weighted Moving Average, apply to: Typical Price — HLC / 3 — choose the color black.
3. Exponential Moving Average EMA with a period of 233, apply to: Close — select color gold
4. Indicator Stochastic Oscillator,% K: 12,% D: 12, delay: 5, apply to: Close, Exponential, as it is necessary to fix minimum: 0 maximum: 100, to establish additional levels of indicator: 20, 30, 70, 80.
5. Indicator MACD — Fast EMA: 5, Slow EMA: 14, MACD SMA: 5, should apply to: Weighted Close (HLCC / 4).
If desired, instead of the MACD indicator can be used an indicator AO-MODERN.mq4
6. Indicator Avarage True Rance with 5 — ATR (5).
Now let's consider the conditions under which we will enter into a deal to buy under the terms of forex strategy Forex Smart — 2:
1) First of all, pay attention to the moving average EMA (233), if the price is above it — are considering a deal just to buy.
2) Then wait for the main signal from the intersection of the 2 moving averages: LWMA (5) crosses LWMA (14) from the bottom up — conclude a deal to buy without that signal trading positions do not open and are not considered!
3) Next, pay attention to the confirmation signal from the indicator MACD, its histogram (bars) must cross its zero level from the bottom up!
4) Check that the price at the time of the transaction is above the EMA (233) than the distance of 3 ATR!
5) Do not buy if the slow Stochastic> 80, is in the overbought zone.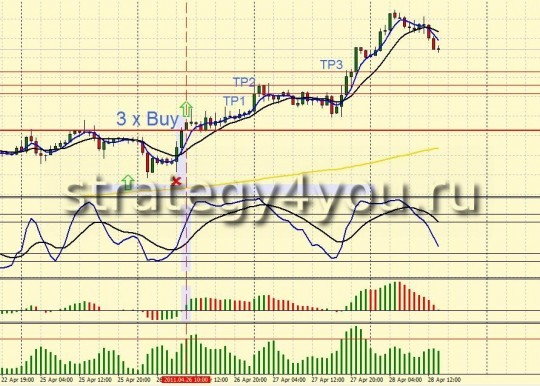 6) If all conditions are satisfied, then conclude the transaction for the purchase of three equal lots, for example 1lot + + 1lot 1lot. But it certainly did not forget to use their forex trading, the rules of Money Management!
7) Install the Take-profit at a distance: 80 points, 100 points, 130 points, respectively, for each open deal. If you open only one bargain, then it can continue to shut down in parts.
8 ) If the purchase — fast Stochastic was> 80, and then dropped below 70, then close all open trading positions.
9) Stop-loss is set at a fixed value, such as 50-100 points (depending on the selected interval) set at the nearest local minimum. Or you can install it on the indicator of ATR and the rate of 3 ATR
10) After closing of the first order, stop-loss swapped at half the original value of fixed stop-loss or a 1.5 ATR. If you prefer, you can use a universal trailing stop.
Now some will describe how to use the indicator Avarage True Rance:
Indicator is in the standard indicators of terminal Metatrader 4 — -> Oscillators -> Avarage True Rance, setting this indicator is only one — the period of ATR. This indicator takes a value of zero or above, although zero almost never happens.
Use it, we will calculate the value of items for stop-loss. Here we assume now EURUSD hour period it is set after the closing hour candles — 0.0026, so this number is multiplied by 3 and obtain 0.0078 and see if the price is more than 78 points from the moving average EMA (233), it opens to buy as well and look forward to the stop-loss if open up to let's say at the moment the stop-loss, and the value we place on 78 points.
For transactions to sell use the opposite rule!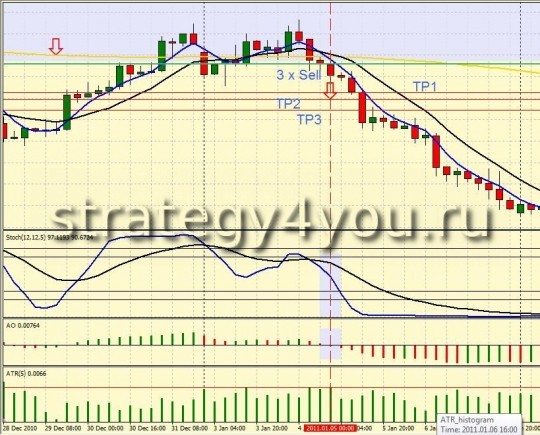 This forex strategy you can download:
2 Template for MetaTrader 4 — forex_smart_2.tpl (one using an indicator MACD, the other using the indicator AO-modern)
These templates are suitable for any MT4 broker forex (5-digit, type ALPARI, 4-digit, type FOREX4YOU), but they must first unzip, just as attached below forex indicators.
See here: How to install the template in MetaTrader 4?
Forex Indicator ATR_histogram.mq4 (although the fit and the standard ATR, only it will look like in the form of graphics)
Indicator AO-MODERN.mq4, if you use it instead of the MACD indicator
All other indicators forex are present in any standard terminal MT4 default
This forex strategy you can buy
Note: if you want to receive updates Adviser — LEAVE positive feedback in the store Plati.ru without specifying e-mail in the body of reviews! e-mail please indicate on the payment page — which indicates where the goods will be delivered!
Preliminary tests forex strategy Forex Smart — 2:
1) test forex strategy Forex Smart — 2 — EURUSD (H4) with the help of advisor forex Forex Smart-2 (2008)
2) test forex strategy Forex Smart — 2 — EURUSD (H1) with the help of advisor forex Forex Smart-2 (2010)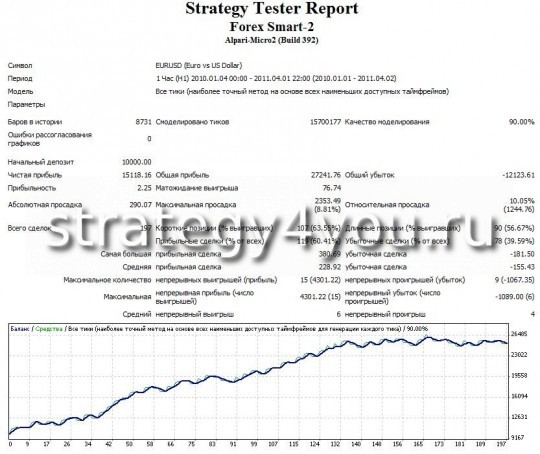 3) test strategies forex Forex Smart — 2 — EURUSD (M15) with the help of advisor forex Forex Smart-2 (April 2010)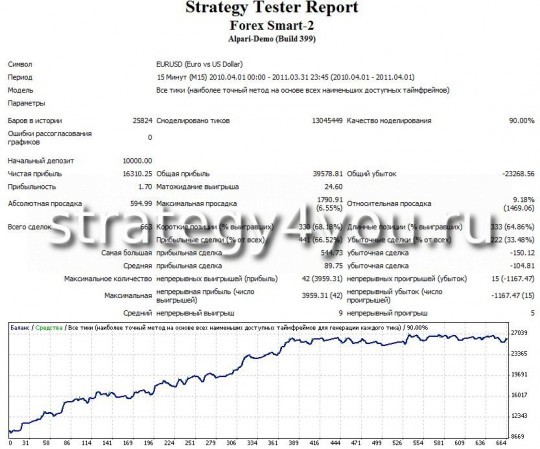 Download: detailed report of the expert advisor Forex Smart-2