Forex Strategy «Wild River» allows you to trade only one or a few times a month and earn at the same time 1000 and more pips almost every month.
Settings forex strategy «Wild River»:
1) Forex Indicator — Envelopes with a period of 240, easy to be applied to the closure. Deviation — 0.06%. Upper bound — blue, the lower limit — red. This is the «river».
2) Moving Average (Moving Average). We need to apply to the closure of linearly weighted, with period 50.
If you do not want to do the settings yourself — you can just download the template Wild_River for this trading strategy designed to trading platform Metatrader 4.
Time period schedule: H4 (4 hour).
Currency pair: it is best to use highly volatile pair. I personally suggest GBPJPY, or EURJPY.
Entering the market for forex strategy «Wild River»:
Open trading positions on the purchase, after a close second candle for the upper boundary river.
Open trading position on SALE, after the second candle closes at the lower boundary of a river.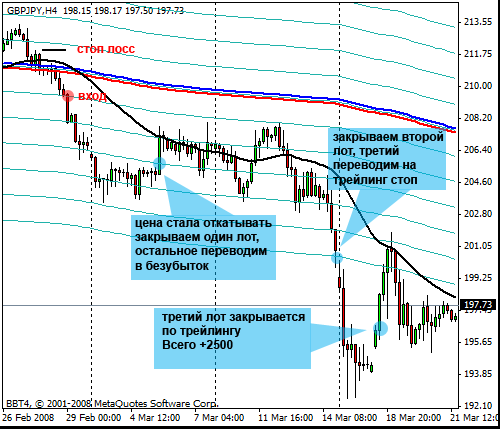 A safety stop loss set at the back of the «river«. If you wait for closure of the second candle (as required by the terms of this forex strategy), then reduce the chance that your transaction closes in an open stop-loss.
Exit from the market:
Position of partial closure of the main Fibonacci extensions — for example, 161.8%, 261.8%, or the trailing stop with a step of 50-100 points. Detailed look at the picture above