Forex Strategy «Big Dog» is very simple and requires no additional indicators forex, you will need only the tools of graphic constructions, which are present in any trading platform Metatrader 4.
Approximate profit obtained by this strategy, forex day from 30 to 50 pips (depending on the chosen currency pair and on how well you are doing all the construction and to avoid mistakes).
So, all you need to trade on forex strategy «Big Dog» — do the following:
1. Choose the 15 minute chart of any currency pair with the USD (although I personally am a supporter of GBPUSD and USDJPY — it all depends on how the market behaves at the moment).
2. On the chart for the chosen currency pair Draw a vertical line at 12:00 (time of GMT, but not terminal and MSC — consider this fact necessarily) — ie the opening of the U.S. session.
3. Next Draw another vertical line at 14:00 (time as GMT)
4. Now Draw a horizontal line at the highest price in that period — by Hai.
5. And just very Draw a horizontal line at the lowest price between procherchinymi vertical lines — on the low.
That is, in principle, and all the constructions, and now are two pending warrants of penetration (Buy Stop and Sell Stop) on the border of incised horizontal lines.
Stop-loss — on the opposite border of the period of late channel.
Approximate Teyk-profit 30-50 pips (depending on the chosen currency pair).
May well use this strategy forex trailing stop 10-15 pips (you and a trailing stop on a trip — with his help is very simple and just put the pending orders, and maintain — perfect!)
Example shown: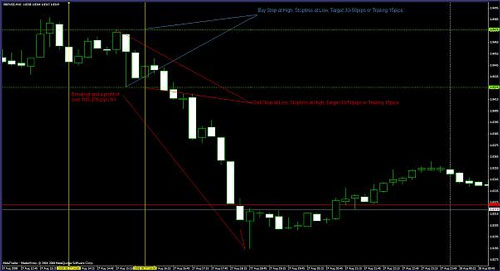 For sure I recommend to test this strategy on the history and make sure that it is able to generate good profits.
Additions to the forex strategy «Big Dog»:
1. At the present 15 minute price chart obtained with 9 candles in our range — between 12 and 14 hours to GMT.
2. If the distance between two horizontal lines built less than 50-60 pips, then this transaction will have a better chance to close with a profit!
3. If the resulting distance of more than 50-60 pips, then the transaction is less likely to close with a profit — respectively, in such cases, you may not sell, the more so as a stop-loss respectively obtained too big.
4. If the price did not pierce drawn by horizontal lines — this is nothing like Renzh — respectively, and a warrant would not work.
5. Important economic news in the U.S. usually come out during the given time range (16-18), so we do not really risk a stop-losses due to sharp fluctuations.
6. VERY IMPORTANT: Trading signals are valid only within the current working day, the next day to draw a new Line 4, delete did not work out a warrant and put the new order.
That's the whole forex strategy «Big Dog» …
By this strategy, forex trading you can buy
or one of the universal advisors forex:
Report on Trade Advisor Forex Combo Box: