Forex strategies for EURGBP is very simple and to trade on it, will need to perform some graphical representations, namely:
Trading begins at 5 pm GMT — open the M15 (a fifteen-minute) chart of the currency pair EURGBP (or USDCHF) and set the horizontal lines through the levels that end in 00 and 50 (respectively 000 and 500 for a five-digit price quotes from brokers, such as Alpari), which are closer to the price (1 above and 1 below the current price).
If the price is fluctuating at a level of 50 or 00 (+ — 5-10 points), then the basis is precisely this level, as the level of prices above and below the level of prices and set the lines above and below prices do not need ( but this is not so often).
Once the levels are set, exposing pending orders at a distance of 25 points from the upper level and -25 points on the lower level.
Example look at the picture: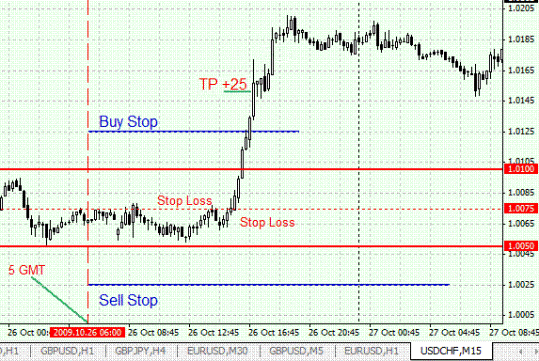 Stop-loss — 50 points. For insurance, you can use trailing stops.
Take-profit — 25 points.
Warrants, which were not open during the day — are removed and installed new ones.
Template for «forex strategy for USDCHF» for Metatrader 4 I do not spread, because its just not …
• Report on Trade Expert Advisor for Metatrader 4 — Morning Levels:

Download: Report on EA Morning Levels from January to November 2009 — A currency pair EURGBP M15!!!
In EA Morning Levels include additional options that reduce the drawdown of the same name strategy.  This EA is able to fully automate the trading process on this strategy and is ready to work on any accounts with terminal Metatrader 4.