Strategy Forex Trade the slope system somewhat similar to the strategy of «3 ducks, suitable for trade major currency pairs: eurusd, gbpusd, usdchf, usdjpy; to enter the market using an indicator forex slope direction line at 4-screens: M5 M15, M30, H1.
Terms of Business:
4 Open the screen, as shown in the figure below: M5, M15, M30, H1 and find the moment, as soon as the indicator is painted in the same color on all time frames. If at all 4 screens, the color red — to contract for SELL, if the blue — on the BUY.
(to enlarge picture, click on it — will open in new window)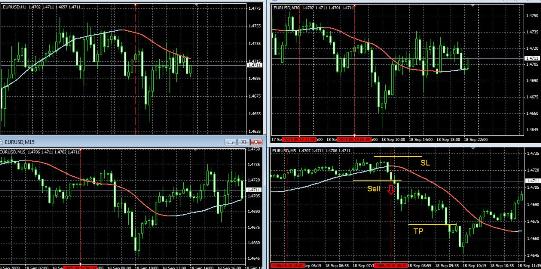 Wait for the closure of candles, which changed color and became the same at 4-screens, and then only make a bargain!
After the opening of trading position set take profit at 40 pips from the entrance and a safety stop-loss at a distance of 35 pips (for EURUSD, for other currency pairs — the parameters may vary).
The same stop-loss can be set at the nearest local minimum or maximum, if this value is less than 35 points.
Close position as if the color of the indicator should be one of the screens changed its color.
To protect profit recommend to use trailing stop (see the value themselves, depending on the currency pair and interval).
Update: this strategy also can be used in other consecutive time intervals, for example: M30, H1, H4, D1. Accordingly, for these intervals, and stop-losses and profits will be different.
Template for MT 4 I do not spread, because except slope direction line indicator on it is nothing.