Forex Strategy Fisher was tested on a currency pair EURUSD (although it may well be a multi-currency), are suitable for trading all time intervals, but I personally recommend to trade at intervals of 5 minutes, the basis for the trading system, take 2 indicator forex — Fisher1.mq4 and varmov . ex4.
And so on the schedule for the chosen currency pair, you must put these forex indicators:
1) Indicator Fisher1 (55) — points to a long-term trend in comparison with the indicator (2)
2) Indicator Fisher1 (10) — indicates the long-term trend is less than the indicator (1)
3) The indicator varmov.ex4, with default settings.
All of these indicators and a template for Metatrader 4, you can download at the end of this forex strategy.
Entering the market for purchases may be made at the opening of the new candles, after all 3 indicators forex stained in blue.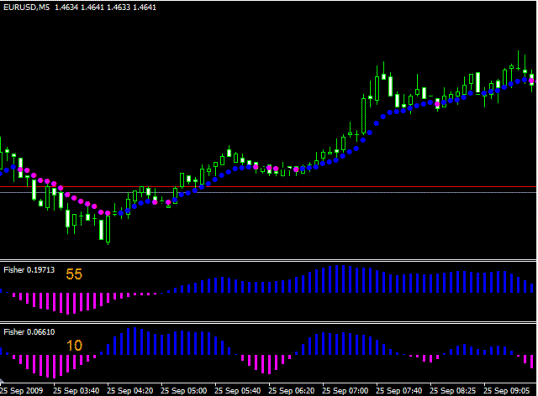 Stop-loss is set at the nearest local minimum.
Take-profit is not installed, and close the deal must be after the indicator Fisher1 (55) will change its color to the opposite!
For transactions on SALE — check the conditions!
Download forex indicator for Metatrader 4 — Fisher1.mq4
Download forex indicator for Metatrader 4 — varmov.ex4
Download a template for MT4 — fisher.tpl