Forex Strategy «Kijun-Sen Bandit» includes 6 indicators forex trading and it is well suited for major currency pairs: EURUSD, GBPUSD, USDJPY and USDCHF, and if desired, can be extended to other currency pairs, trading is in the range of H1.
Used forex indicators:
1) Indicator forex Kijun-Sen (26,9) — a key indicator in the forex strategy, because it enables the point of equilibrium in the market. If he's trying to price in one of the parties — a sign of change of momentum in the market price.
2) Exponential Moving Average EMA (8) — red and EMA (24) — blue.
3) The indicator forex BBands_Stop_v1 — based on Bollinger Bands. It allows you to define levels vystavlneniya stop-loss and signals a trend change in the market.
4) trend indicator forex ADX (14), with levels 20, 30 and 40.
5) Forex Indicator - MACD (12,26,9).
6) Stochastic Oscillator — Stochastic (30,10,10), to be placed on the forex indicator MACD. It is used to confirm trading signals — determine the yield rates from the overbought and oversold (the intersection with the levels: 20 and 80).
Advertisement purchase position is opened if the following conditions: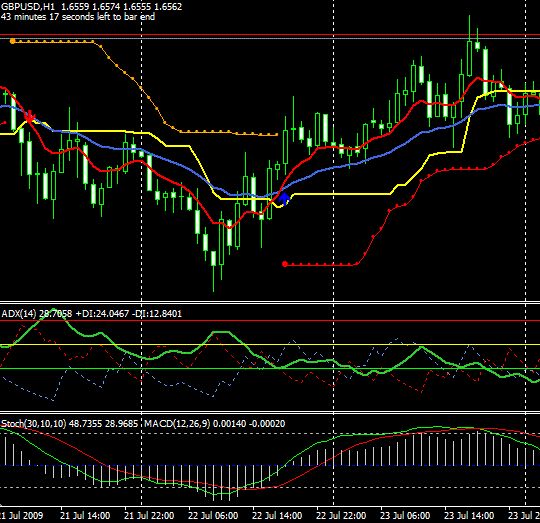 1) The price rose above the indicator line Kijun-Sen (yellow line)
2) Red EMA (8) crosses the blue EMA (24) from the bottom up.
3) The indicator BBands_Stop_v1 draws under the price of big red dot (hereafter becomes a line with points).
4) ADX line and the line of DI should raspolagaetsya over its level 20 and growing.
5) The histogram of the MACD indicator is located on the positive side (above its zero line).
1 st safety stop-loss order should be set higher by 1-2 ticks level indicator forex BBands_Stop_v1. And then it should move forwards prices higher next traced the points of the same indicator (BBands_Stop_v1).
Rules out of the trading position of forex strategy «Kijun-Sen Bandit»
To close the deal should be in any of the 2 cases:
1) Candle closed at the opposite side of the indicator Kijun Sen.
2) Reverse the intersection of 2 exponential moving averages.
For opening and closing on sale of acting opposite rule.
Addendum: after the price is 20-30 points in the direction of trade position - the stop loss should be moved to breakeven. And also, if you wish, you can close part of the position.
And so all of the following indicators should be placed in a folder … \ experts \ indicators \, and the template in the folder … \ templates \ (or simply download the template right click on the schedule in MT4):
Download Forex Indicator for MT4 — BBands_Stop_v1.mq4
Download Forex Indicator for MT4 — EMA-Crossover_Signal.mq4 (draws the arrow at the intersection of Moving Averages)
Download Forex Indicator for MT4 — Kijun-Sen.mq4
Download Forex Indicator for MT4 — b-clock modified.mq4 (shows how much time is left until the close of a candle)
Download a template for MT4 — KS_Bandit_H1.tpl