By forex strategy Natuseko Protrader 4H start trading with a mini account for 200 USD — earned about 670 points in 9 trading days, all you need to do — follow the rules of this strategy, forex, for easy configuration — proposed by the author's template (at the end of a strategy) for trade Terminal Metatrader 4.
Conditions for opening transaction strategy forex Natuseko Protrader 4H:
Forex strategy works on a temporary period of 4 o'clock (H4).
The conditions for a transaction to BUY:
1) As soon as the three EMA moving averages with periods of 13, 21, 55 intersect, the example shown in the figure.
2) As soon as the green moving average 3 SMA and the red signal line indicator MACD (5,200,1) intersect and be located above the middle line of the Bollinger Bands, or cross it.
3) As soon as the RSI indicator 21 crossed up your level 50.
4) Just over three moving averages of EMA should form a complete candle. But if before the you are logged in happened in the market a strong movement, then enter into a deal to buy a rollback to the moving average 13EMA.
Example (to enlarge picture — click on it — will open in new window)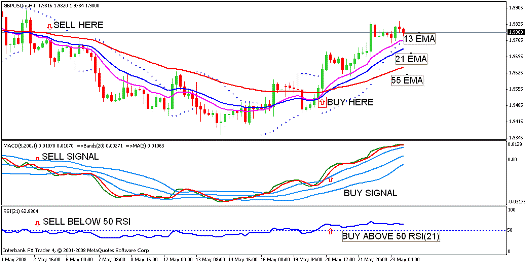 A safety stop-loss:
I recommend to have a safety stop-loss at the intersection of three moving averages, or EMA in the first point of Parabolic SAR (PSAR) - you choose.
Take-Profit:
1. As soon as the RSI indicator 21 above its level of 65% would recommend to close half of the trading position, and then let the profit for the remainder of the transaction to grow, and you can use a trailing stop.
2. Once a Parabolic SAR indicator forms a trading position at the top of the purchase (ie, drawing a point at the top), as well advised to close half of the profits.
Full output of the bargain:
1. Close the deal as soon as the RSI indicator crosses down the 21 your level 50, as well as the only Green moving average 3 SMA and the red signal line indicator MACD crossed downwards.
 
For a trading position for SELL — are deploying all the rights of prisoners and closing of the transaction.