Forex Strategy on MACD MA and PSAR is based on several indicators forex (at the end of this forex strategy you can download the template for MT4):
On the schedule for the chosen currency pair, which can be any, should be placed:
Indicator Forex Parabolic — PSAR (with default settings)
Simple Moving Average — SMA 21 (applied to the HLC / 3).
And also:
In the forex indicator window number 1 is necessary to begin to place the indicator MACD (12,26,9) and it is necessary to impose the following forex indicators: Moving Average WMA (10) — a method of Linear Weighted shift (-1), white, and same simple moving average SMA 13 — Color light blue.
In the window indicator forex number 2 is necessary to place the indicator RSI (8) Close (just need to set levels of -70, 65, 50, 35, 30). And on it the same way imposed 2-e Simple Moving Average — SMA 8 — color is orange and the average SMA 21, color blue.
In the forex indicator window number 3 will need to put a forex indicator CCI (14, HLC / 3), levels of 100, 0, -100.
Although testing was conducted in the forex strategy GBPJPY on an hour range, but I guess possible options when choosing a timeframe and currency pair.
The main indicator is the MACD overlaid with the moving average MA and light Parabolic — PSAR, and the remaining set forex indicators are complementary and are designed to accept input signals in a trading position.
Trading signals for opening transactions in forex strategy at the MACD MA and PSAR.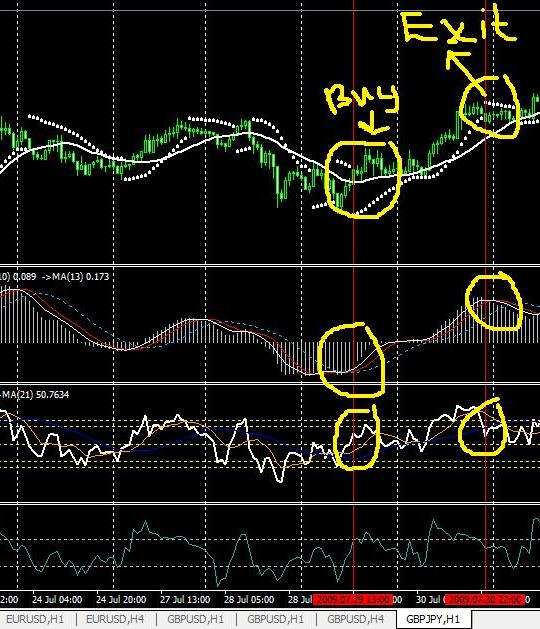 Opening deals for:
Deal to open, if the average WMA (10) crosses the signal line indicator MACD (ie, the average SMA 9) from the bottom up after the closing of trading hours and the indicator PSAR moved under the price. In this case, the MACD indicator has also increased.
The same should pay attention to the indicator RSI (8), if it is above 65, then the deal to buy at this point is not needed. Necessary to wait for RSI closer to rollback imposed on him moving average SMA (21). The best conditions for the opening of the transaction occur if the RSI is close to the overlay medium SMA (21) and the RSI is at 50 or close to it.
Forex indicator CCI (14) is less important to find the entry level, but his testimony can also be used when trading.
Stop-loss order should be placed immediately after the conclusion of the transaction under the point, traced indicator PSAR.
Closing of the transaction with a profit — after the return signals MACD MA or after the RSI from the overbought (above 65-70) to fall below 65.
Just a good helper in the trade may be a trailing stop.
For SELL — everything up to the «vice versa».