Forex Strategy T3MA works on forex indicator, which was written on the basis T3MA indicator (all the indicators you can download at the end of this strategy). To trade on the recommended method to set the parameters instead of 15 and 0,7 — 4 and 1,5.
Once you set the indicator on the selected forex currency pair, it will be displayed clearly visible peaks and troughs. Additional indicator forex T3MA-ALARM displays the entry point on the graph in the form of arrows. Horn will alert at the moment, as soon as a new needle and signal, respectively.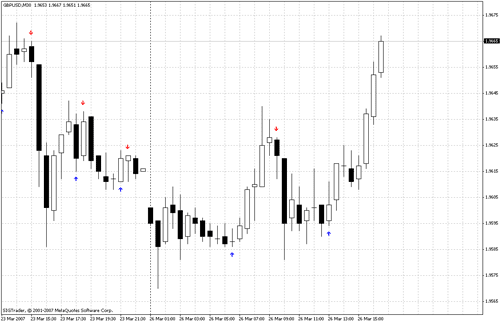 Bargaining under the strategy forex T3MA:
1) is a deal to buy — When to schedule an up arrow
2) to transact on sell- with the appearance of the graph down arrow.
Setting Stop-loss — at your discretion (but I recommend the closest maximum — for sale and at least for purchase).
Take-profit - just at your discretion, but can for example, Fibonacci extension (set to important Fibonacci retracement levels).
We should not just forget about the rules of «money management» (ie, use no more than 1-2% risk of the size of the deposit for each item). Another piece of advice — do not sell in the bull market (at a higher time interval) and do not buy at bear.
I recommend to buy or sell after the rollback in the direction of the underlying trend - more likely to make a profit.
This forex strategy works best on the currency pair GBPUSD, because She is very good volatility, but should work on all other currency pairs.
More profitable forex strategy is the express trend, however, and in flat mode is also quite possible to trade.
Time interval — optional, but always in forex trading should be remembered that the longer the time interval is less than «market noise».
In this strategy, forex trading is quite possible range of M30 and more.