Universal forex strategy — is quite simple trading system that can be applied to any currency pair on any timeframe (but preferably from the M5 and above), it signals based on a 3-forex indicators: Moving Average EMA (300), Nonlagdot and Supertrend.
And so on the schedule for the chosen currency pair set the following indicators forex:
1) Exponential Moving Average of period 300 — EMA (300). Allows us to determine the direction of the trend to bigger time-frames — only in the direction of the middle and we will open the transaction.
2) Indicator Nonlagdot.mq4 — you can download it at the end of forex strategy.
3) The indicator Supertrend.mq4 — also can be downloaded at the end of this forex strategy.
Transactions of the strategy are opened only on pending orders! And for this, it is necessary that the following conditions:
1) Price is above the moving average EMA (300)
2) Nonlagdot.mq4 indicator changes color of their points from red to blue.
3) Supertrend.mq4 indicator turns green and the price is above him
Place pending orders to buy, once formed and rolled candle closed bearish (ie the closing price of the candle is lower than the opening price of the same candles).
Buy Stop order to expose the peak of the upward movement spreads 2-3 pips!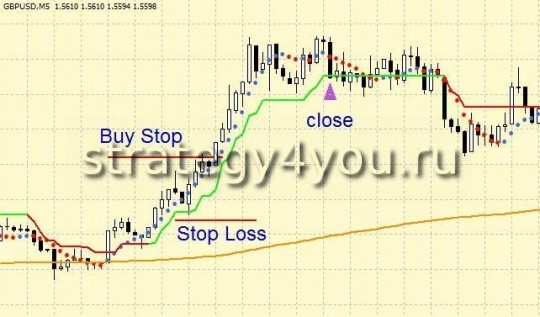 Warning:
If one of the Indicators: Supertrend Nonlagdot or changing the color — pending orders should be removed!
If all the conditions for the issuing of warrants executed, but the price was already a large number of points after the confirmation signal without sliding spark (which is to expose the order) — then put a warrant should not be, but better to wait for new signals, as very high risk of closure orders by the stop-loss.
Stop-loss is put below the line indicator Supertrend.mq4 or below the nearest local minimum and then move it to new and changing line Supertrend.
Profit target is not fixed, and fix the profit if:
Supertrend.mq4 indicator changed its color to the opposite
or the price touched the line of the indicator — Supertrend
If the indicator Nonlagdot.mq4 changed its opposite color and the price is not affected indicator Supertrend and he has not changed its color — in this case, if you wish, you can add a pending order to add to positions.
For transactions on sale — check the conditions! An example transaction for the sale, see below — a video version of this strategy.
Download forex indicator for Metatrader 4 — Nonlagdot.mq4
Download forex indicator for Metatrader 4 — Supertrend.mq4
Download a template for Metatrader 4 — universal.tpl
Warning indicators and a template for MT4 archived — before installing the MT4 they need to decompress!