Strategy Forex Trendlines — an elementary trading system, the profitability of which I was simply amazed (see report at the end of this strategy, forex trading, although not final), it uses only a retreat from the trend lines, built on the 2-3 time-frames, and the same rules of entry and exit from it and nothing more!
The author of this strategy forex easily increased his score to the sum of more than 330 000 $ within a very short time — about 2 months, this was the trading strategy (10 k) …
This strategy is suitable for any forex currency pairs, and virtually any time-frame, but it is desirable to use the interval above M5. Although the author without any obstacles and sells at intervals M1. But it recommends that still kept an eye on the larger intervals, as on them and profits are much greater and the time before the monitor you just spend less. Besides, do not forget that in the interval M1 profit can be 5-10 points, and at the same 3-4 point spread, that is simply not very efficiently!
So, suppose we have chosen to trade a currency pair EURUSD, the interval M15. Therefore, we must first determine where the trend is aimed at 2 intervals above our chosen, ie M30, H1. And at this bargain we will only in the direction of this trend!
If the line for 2 +'s traded timeframe (M15) directed upwards, then we'll buy at the approach to the data lines, but not limits, but deferred orders Buy Stop, which are exposed above 5 points, than contact with the candle This line — «the candle lights out»!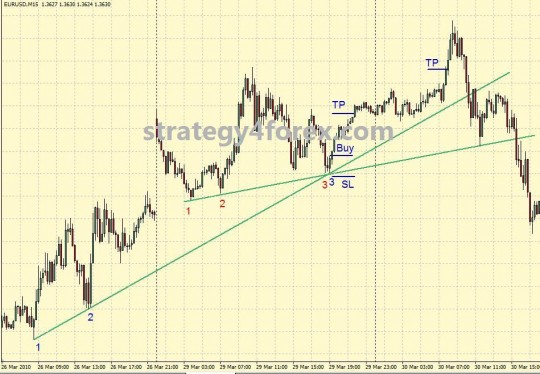 Accordingly, in the direction of the lines down, we'll be selling when prices approach to the data lines from the bottom up in respect of deferred Sell Stop, which are set below the candles come into contact with trend lines pointing downwards!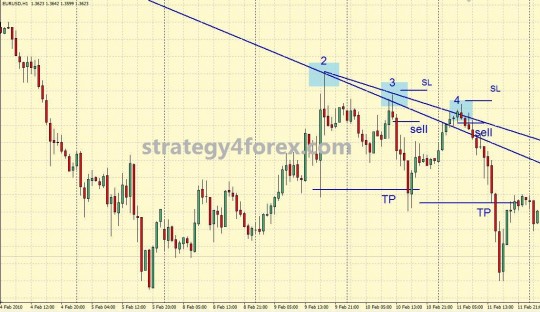 Stop-loss in this case will stand for 5 points below the «pneumatic candles» in transactions for the purchase, and 5 points above the «pneumatic candles» for a transaction to sell.
Take-profit set to the nearest local maximum (5-10 points lower) for the transactions for the purchase and the nearest local minimum (5-10 points vyzhe) for transactions in the sale.
At the same stop-loss, I recommend to move to closed candles (again, 5 points lower or higher — depending on the transactions).
And although the picture quality of the report put it mildly, «not very», but the final profit in it for the period from 09.29.2008 -01.10.2008 — $ 9895, and the total balance of $ 14895!