The strategy forex «trading from mid-range» as follows:
Conclude a deal to buy if the market rises above the middle (50% corrective movement on Fibonacci) from the last completed movements in the forex market.
Conclude a deal to sell if the market falls below the middle (50% Fibonacci correction movement) of the last completed movements in the forex market.

This trading strategy is poorly applicable to trade in the time ranges over several days. Rather, it is suitable for trading on vnetrednevnyh intervals and for those occasions when you need to hold a trading position no more than 2-3 working days. However, technical analysis charts, in any form must be carried on daily and even weekly time intervals.
Determine the 50%-ing the border on Fibonnachii one, or better yet — 2 consistently traced recently closed market trends are often not a problem, but the question remains: «What shall we use to obtain confirmation of the signal?»
Very sorry, but no simple answer to this question is not — very often this close to the border zone there is little in the market indicates that will definitely happen in the market, and he in turn looks as though ready to move in any direction.
Output should be done about any of the Fibonacci levels or near local minima or maxima in the market — it all depends on what you want to make a profit, and whether they are commensurate with the possible risk of loss. An example of this strategy, forex presented in the figure.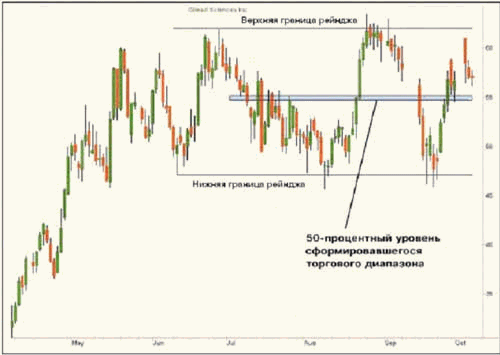 Fig. 1. Conclusion of a deal to buy at higher market formed above the middle price range and sell at lower below the same level gave traders a good opportunity for profit. Prices in the market several times very easily raised from the middle zone of 10-12%, and fell from it as possible, even a large amount. Profit was fixed at the boundaries of the trade price range.