Forex Strategy «scalp in silence» designed to trade on the minute price chart (M1) currency pairs with Spread 2 points — EURUSD (if you can find a forex broker with a smaller spread — very good), you can trade only in the interval from 9 to 11 to GMT.
First, put 2 Parabolic:
1) Parabolic SAR (0,02 and 0.2) — Green
2) Parabolic SAR (0,005 and 0.05) — blue
Remember that you need only open transactions in the direction of the 2 nd parabolic (0,005 & 0.05) — Blue!
To determine tocheh entry, choose Tools — Fibonacci.
Once the price has broken the 1-st parabolic, we construct the grid Fibonacci between the last significant minimum on the graph to the reversal of parabolic, and the maximum of the Japanese candles, which took place this turn parabolic.
And finally: Entrance to the trade deal to buy produce at the level of 50% — transaction is in the breakdown level of 50% Fibonacci or rebound from the 50% Fibonacci, and withdrawal from the deal at the level of 161,8% on the Fibonacci sequence. Harnesses Stop-loss set at 2 points below the last minimum before the parabolic reversal.
Also for this strategy forex good use of «Trailing stop of 1 item advisor for MT4»
For sale — the same rules.
For details, see the picture (To enlarge the picture — Click on it — will open in a new window!):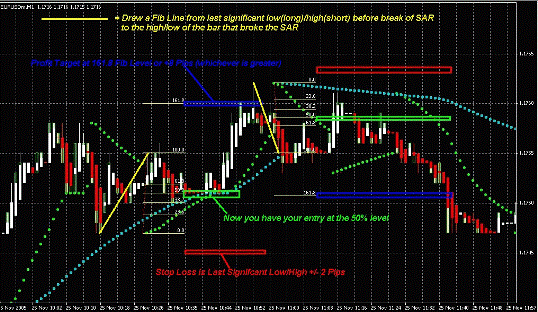 Recommended risk on each transaction — 2% — 4% for each transaction!
Download a template for the strategy forex «scalp in silence» for MT4 — skalp_v_tishene.tpl