This Forex Scalping Strategy on PSAR and MACD looking quite unpretentious, but it is working and is successfully used by traders who prefer Scalping Forex strategies — it uses only 2 forex indicator — MACD-combo (12,26,9) and Parabolic (PSAR) — peremetry standard.
Open trading positions in the case of coincidence of the two signals Forex indicators (the intersection of MACD and the jump point Parabolic (PSAR)). But the signals need to take into account only if they agree within the 1 st — 3rd bars after we point indicator PSAR!
Opens a trading position placed stop orders on the current point indicator Parabolic if MACD crossed paths first, or at the closing price of the bar, if the indicator PSAR go before gave the signal indicator MACD.
Time interval — I would advise at least 30 minutes, but it can be traded and 15 minutes.
Currency pair — any, of your choice.
Take Profit — display of 10-30 pips (on request can be very successful in using this strategy adviser «trailing stop of 1 item advisor for MT4» — which is very well exposes the deferred stop and with good interchanges actuated warrant in «zero» or trail them to the minimum distances, as well as automatic stop-loss and take-profit — that is actually running a counselor and click «OK» — you have to set the order with the specified parameters (previously prepared by this strategy), when receiving the signal in this strategy forex).
Stop-loss — I would recommend a place or under low or high the last candle, or under (over) the point of PSAR indicator or can determine for themselves the standard — for example, 15-20 s, but it is desirable that both teyk-profit was at least 2 times.
The graph, see examples of transactions: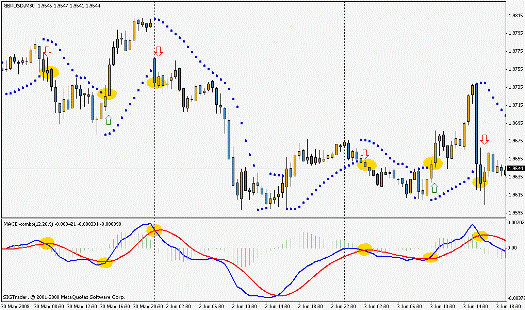 Download Forex Indicator for Metatrader 4 —  MACD-combo