This forex strategy «High Low» is very simple, but actually it can yield good profits in its trading for traders:
The whole essence of this strategy FOREX shown in the picture: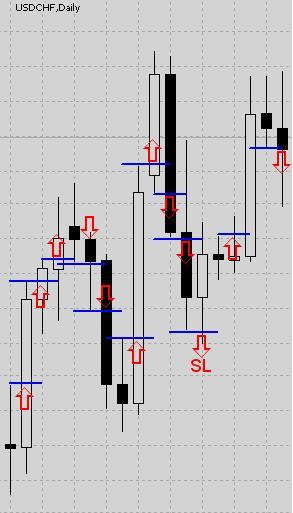 Description of the Strategy Forex «High Low»:
 
From 00.00 hours to see the behavior of prices in the selected schedule forex currency pair in the interval Daily.
As soon as the price pierces High or Low previous candles (previous day), enter the market (bargain) under the direction of movement of prices. If you do not want to sit and watch the price, you can set the stop-order: sell stop or buy stop.
Stop-Loss is presenting at the second end candles yesterday.
Then, depending on the situation on the market:
1) if the trend is the movement — to change the position of  «zero» and wait for the closing the next day, if the movement continues — just move the stop-loss.
2) if the situation is not defined in the market — or use a trailing stop order for support of their position or simply rearrange the order of «zero» and wait for the closing of the day (at the close of the day, you can just close the warrant). And if you want to open the next (while not necessarily in the same currency pair).
The only drawback of this method of trading — sometimes very large candles — for 100-300 points.
Accordingly, the stop-loss is also produced — 100-300 points.
But if you do not want to risk a lot of money, there is always the possibility of opening a position less fathomable, there are a vast number of  dealing centers, which allow to trade as a micro-lots, and on tsentovyh accounts.
In doing so, you'll risk less …