Forex Strategy Emp — a simple forex trading system, based on the use of important historic levels and rebound from them, the author is a member of this site — the trader with the nickname Emp (hence its name strategy), trade is conducted on H4, multi-currency forex strategy (ie, trade can be on any currency pair).
Then publish the full text of forex strategy, according to the author, there are questions — ask, I think of you all to explain.
The main essence of the strategy Emp:
First, there are no indicators in the strategy there.
In fact, the strategy is a blend of classical ideas about trade.
1) taken as a basis levels. Level, the approximate value of the price, on which the price bounces, gets stuck or breaks it, continuing its movement. Below the pictures are marked with black levels of horizontal lines. Marked with red liner terms by which these levels are building.
2) In the form of a filter using the trend movement, that is, standard support and resistance lines. I will not describe them as information on them on the internet a lot, including on this site.
The deal to buy:
1) The position is opened in an uptrend, after the third contact of the support line,
2) release from both the level and confirmation in the form of two or more white candles.
3) Stop loss is set to last at least
4) take profit calculates a simple calculation: take the opening point of the candle (the beginning of the body) and the minimum of the last closing price of the last candle, after which the number of points is doubled.
5) Also, for peace of mind you can put a deal to breakeven after reaching 50 points.

For transactions in the sale — the conditions of return.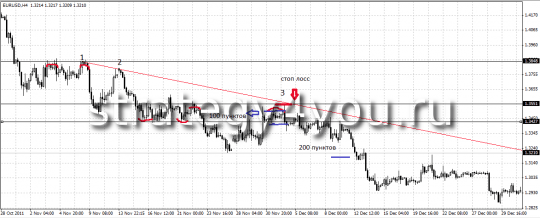 According to the statistics: the statistics of the living. In one month, the strategy can yield about 1,000 points, second minus 35, plus 700 in the third. Well, statistics are very dependent on trading rights, as clear guidance to trade there. For some, a white candle — is confirmation of a release, someone will be waiting for four.
On my own I want to add a link to the forex strategy at the trend lines, where you'll learn how to build on a trend line chart (also known as resistance and support lines) and how to trade when prices approach to them (an option).
Template MT4 Forex indicators and to this strategy is not, therefore they do not spread.