Forex Pattern «bow tie» represents a nothing but the intersection of 3 moving averages, periods and styles that you'll continue to review the strategy forex, in a certain order, and although the best option to use it showing the daily chart, but he also may be applicable for trade within the day.
As you know, trends in the forex never last forever, they often exhaust themselves and of themselves, and usually after that, a new trend, which is directed in the opposite direction of the previous one. But the well-established trends usually last garazdo longer than many traders to predict.
But oddly enough, the market always gives us a signal to the trend begins to unfold, but before the new trend will continue, usually occur small corrective movement.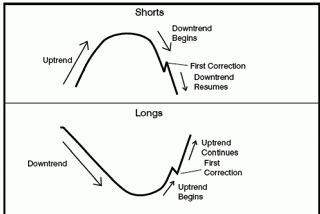 Figure 1. Trading on the forex conversions. Should wait for a trend change, and then enter the market at the first corrective movement, if the new trend will exercise their confirmation.
One very interesting transitional pattern is a pattern of «bow tie» (English — Bow Tie). This pattern of forex trading is based on a few simple and exponential moving averages to determine when a trend change in the market.
General rules of pattern «bow tie»:
To determine this pattern uses a 10-day simple moving average (SMA), 20-day exponential moving average (EMA), as well as the 30-day EMA. 10-day SMA, gives the trader a «true» average price over the past two weeks or 10 trading days.
For longer-term moving averages are usually ispolzuyutsya Exponential MA, since they «weigh» all the data. While they take into account the long-term trend by arynke, but they are faster to keep up with changes in price, because a greater weight to give them the latest information.
Consider the basic rules for the transaction to buy (to get the rights to make a deal to sell just need to expand the «rules for purchase):
And so we use a simple SMA with period 10, the exponential EMA with a period of 20 and EMA with a period of 30 (these moving averages in the MT4 trading platform called Moving Averages):
1) These moving averages need to get off and re-disperse, changing the order with the order inherent in a downtrend (10-SMA <20-EMA <30-EMA) in order inherent in the rising price trend (10-SMA> 20-EMA> 30 — EMA). Ideally, the interval of time it should happen in 3-4 trading days. That's right, and appears on the chart pattern bow tie, consisting of interlaced moving averages. How does it look like — look at Figure 2.