Forex Strategy «20 points in a day» can always earn 20 pips a day — it really can enable you to learn how to earn on Forex every day working week. This forex strategy worked for years, so I do not think she has a tendency to stop working in the near future, but anything is possible …
So Algoritm trading forex strategy «20 points in the day»:
1. Time work on the forex strategy — only after 11:00 GMT.
2. Before you start trading you want to view calendar forex news and see if there are any important news scheduled for this day.
3. If the output of important events still is — that open trade is only after this news.
4. If no important news is not, then the trade should be to 12:30 GMT.
5. To do this, set the chart moving average — SMA with period 20, and forex indicator — Momentum 5 (these forex indicators are standard indicators for MT4).
6. Time interval — 30 min (M30), the currency pair — any, but better GBPUSD, USDCAD, or any highly volatile.
7. Open a deal to buy — if the candle closes and remains above the 20 SMA, and Momentum is above average.
If the price rose and remained below the moving average of 20 SMA, and Momentum is below the average — a deal on open sale.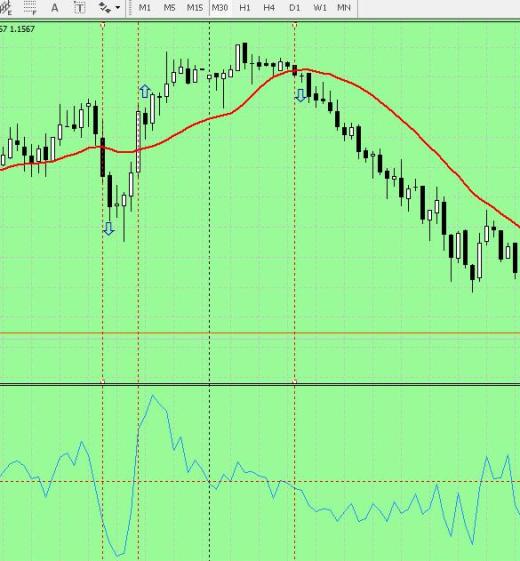 8. Put Take-profit — at least 20 pips, but I would certainly recommend using a trailing stop on a trip or a standard terminal for the rearrangement of the order when reaching 10-15 points — at zero, and then take out 30-50% of the transaction with profit-20- 30 points, while the remaining 70-50% trail, while profit may reach very more than 20 points!
9. Stop-loss is the same — you can put 20 pips (set immediately at the opening of trading transactions) or you can set for Moving Averages, or high (or low) the last candle, which crossed the removals (SMA 20).
10. Be suspicious if the price after the opening of a trade deal 20 SMA crosses and closes it, you need to immediately close the bargain!
This forex strategy can be applied to any other time interval if during the trade there is enough volatility in the foreign exchange market. I have to this strategy, forex chose American session, as name on it is almost always seen a strong movement in the market, but on request it can be used well and at the European session.