Intraday trading forex strategy for 5-minute chart:
Recommend trade for this strategy on currency pairs EURUSD and GBPUSD, but make no more than 3 commercial transactions per day.
And so, in a 5-minute price chart:
Indicator 50 Simple Moving Average (SMA 50)
Indicator 21 Exponential Moving Average (EMA 21)
The 10 Exponential Moving Average (EMA 10)
The entrance to the market:
Open trading position as soon as the angle of SMA with a period of 50 exceeds 20 degrees (see graph number 1), and the price comes back — the area between the EMA with a period of 21 and EMA with a period of 10.
By Example — Figure 1, we open the deal to sell the slope of the 50 SMA. Set SL (6 pips spread) and TP (8-10 pips). When on your trade position will have 6 pips, immediately transfer the SL to breakeven (for this is simply not replace the trailing stop on a trip).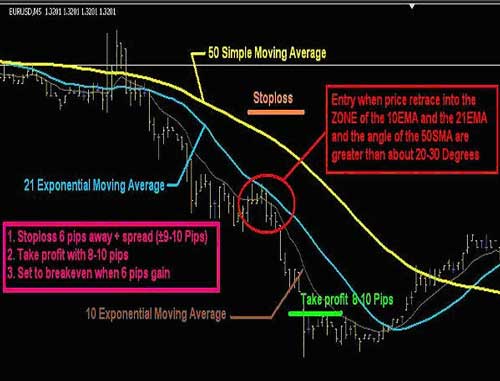 Just a few examples: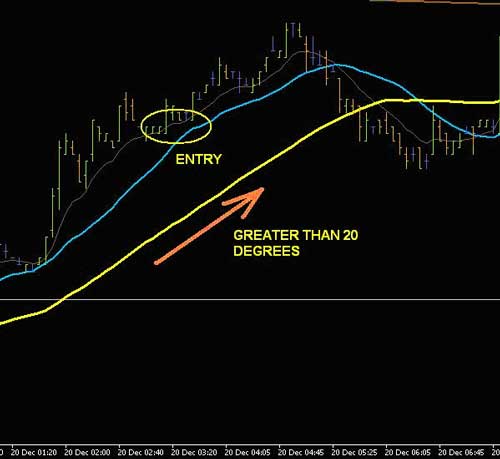 Chart 2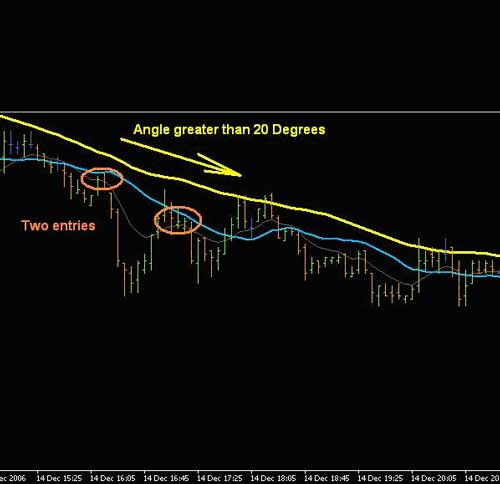 Chart 3
Addition to this forex strategy:
The most important thing in this forex strategy — is to find a strong trend for 5-minute price chart using the slope of the 50 SMA and enter the market only after the price rollback in the area of 2 remaining Moving Averages (EMA).
Important:
Do not follow the trade on the forex strategy, before leaving the important news, this strategy forex absolutely not intended for trading on the news!
You should never rush to open a bargain, wait until the entry will correspond absolutely to all the above rules!
Better to choose a Forex Brokerage company with a minimum acceptable offset from the current price of 2-3 points.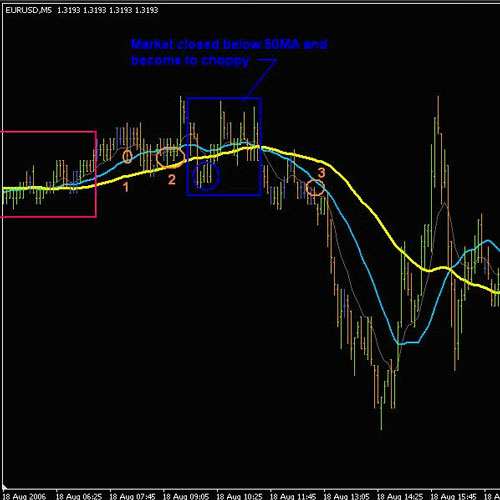 Chart 4
Will describe the rules again:
1) 50 SMA should indicate a strong trend in the market, which is evaluated by its slope (must be at least 20 degrees).
2) Wait until the price on the chart rollback in the area between the EMA (21) and EMA (10).
3) Only after these 2 listed conditions are opening a bargain.
4) Set stop-loss at 6 pips spread.
5) Move the stop-loss point zero «after a profit of at least 6 pips.
6) expose Take-profit — 8-10 pips.
You can also download the following helper indicators for this forex strategy — for MT4
Forex Indicator PhilNelSignals — the signal, and notes on the chart for the opening point of the transaction. Green label — buy, red label — for sale.
Forex Indicator SMAAngle — shows on the schedule angle SMA. For this Forex strategy should establish levels of 0.2 and -0.2.