Forex Strategy «Update method Fozzy» — very simple and informative forex strategy,
the recommended currency pairs: EURUSD, USDJPY, GBPUSD, USDCHF,
the recommended interval — H4, D1, but it is quite possible trade and the and H1 — only a little more to be false alarms.
For trade, we need to compile complicated forex indicator (but not to do so — you will be ready enough to download a template for Metatrader 4 at the end of this strategy Forex and install it on the schedule — all indicators forex with the right settings appear on the screen).
So we need to combine in one box: indicator RSI (8) — the color red, the moving average SMA (8) — the color blue, and Bollinger Bands (20, deviation 2) — green, dotted line.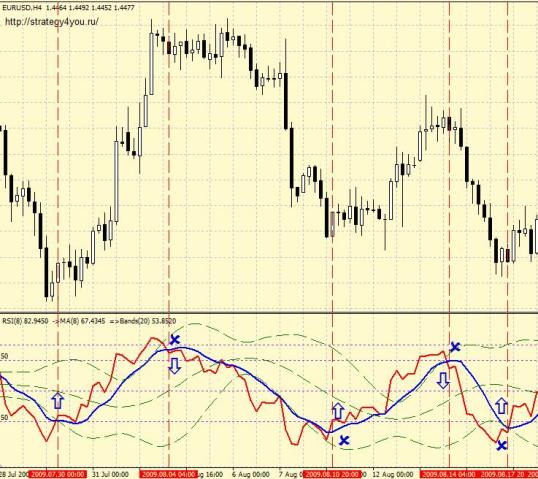 Conclude a deal to BUY if the RSI (8) crosses below the moving average SMA (8) below the middle Bollinger bands.
Conclude the transaction on SELL, if the RSI (8) crosses above the moving average SMA (8) above the middle band Bollindger Bands.
Stop-loss — the closest maximum for the transaction to sell and close at least for the transaction to buy.
Stop-loss is moved to breakeven when price is 40-60 points (depending on the chosen currency pair). Then (if you wish, but not necessarily) you can use a trailing stop at 25 pips from the price.
Profit — the reverse signals (opposite the intersection of RSI and SMA on the opposite side of the midline Bollinger)!