Forex Strategy «complete attenuation» is a multi-currency and allows you to catch the peaks and troughs of the market, which in turn provide the potential to earn, the recommended time-frame — H1.
Identify intraday reversals, we will with:
a combination of 3 sets of Bollinger Bands (20) with a deviation 1SD, 2SD, 3SD.
and oscillator RSI (14) with levels 30 and 70.
Bargain, we will at that moment, as soon as the RSI indicator reaches an overbought level (above 70) or oversold (below 30) on the market. After the appearance of this signal, we will seek an opportunity to make a deal at the turn of the market.
With three sets of Bollinger Bands, we will determine the point of exhaustion. The main reason is because we use just these 3 sets of indicator Bollinger bands is that they help us identify the end of the movement, together with the degree of possible rollback in the market.
If the price reached the 3rd Bollinger Bands, it is a signal that it is in «extreme zone». Once we move away from the band 3rd standard deviation Bollinger in the area between 1 st and 2 nd indicator Bollinger bands, we already know that the currency exchange at the moment has reached its extreme point, and enters into a phase reversal.
The main condition of the transaction is the presence of at least 1 second candle, closed down between 2 m and 1-m standard deviation Bollinger.
Conclude a deal to buy if:
1. RSI (Relative Strength Index) is below its level 30.
2. Price reached the 3rd Bollinger Bands (3SD)
3. Then the candle on the H1 rose from the zone 3SD-2SD Bollinger band in the 2SD-1SD.
4. And only after the 1-st candle closes within range Bollinger 2SD-1SD, we conclude 2 equal transaction to purchase at market price.
5. We place a stop loss at 10 points below the last local minimum.
6. Set take profit at a distance equal to the stop-loss for the 1-th transaction.
7. Once the first profit target is reached, move stop-loss 2-second transaction to breakeven. And if you choose to use the trailing stop.
8. Second profit target — the level of 2-nd upper Bollinger band.
Consider an example for the pair EURUSD: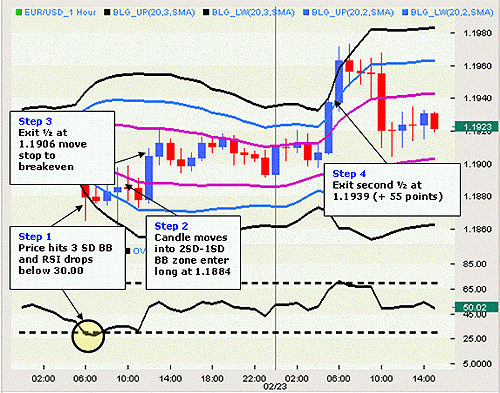 1. Price reached the 3rd Bollinger bands, RSI and the oscillator has fallen below its level 30
2. Hourly candle entered into the 2SD-1SD Bollinger, open a transaction for the purchase price 1.1884
3. Stop-loss set at 1.1862 — 22 points, respectively, and 1-st profit is 22 points.
4. Close 1 st deal on profit 1.1906, portable stop loss to breakeven
5. Close the 2-th position on the trading price of 1.1939 (profit: + 55 pips)
For transactions on sale — converse rules!
Video Forex Strategy "Complete Attenuation":