Forex Strategy «Defile SAR» — a fairly simple breakout strategy based on trending indicator forex Parabolic SAR + on the rules of entry and exit in the range H4 for the currency pair EURUSD, the author of it is just a site visitor Claus (remember that he had sent a number of strategies, forex, one of them — Forex Strategy SMA 108, 2nd — strategy «Antiflet»).
First of all, set in the currency pair chart EURUSD (H4) Parabolic SAR indicator with the — 0.002: 0.2
Terms and Conditions for purchase, according to the rules of forex strategy «Defile SAR»:
1) Break points indicator Parabolick SAR bottom-up point for the price jump
2) H4 candle closes and thereafter a minimum of 2 next candle closes below the maximum, that is, there is a pronounced maximum, or else you say Fractal Bill Williams (you can use it or not). But easier without him there is a maximum of 2 candles and closed below the minimum — excellent.
3) exhibits two pending orders above the maximum of the educated Buy Stop at a distance equal to the lot of 10-15 points (4-digit brokers, such as Instaforex or 100-150 points for a 5-digit brokers such as Alpari) from maximum.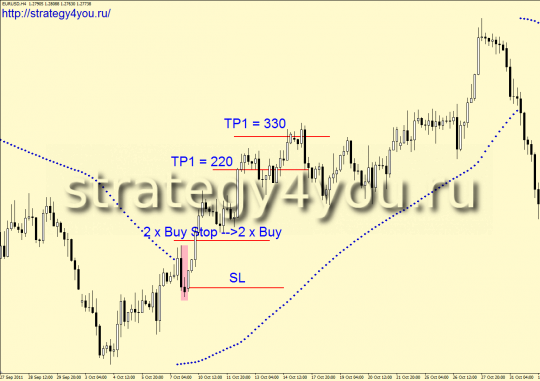 4) Stop-loss is set at a distance of 150 settlements of pending orders (for 4 mark! 5 mark — 1500 points)
5) Take-profit 1 — 220-point profit target 2 — 330 points (just for a 4-mark, for a 5-digit Forex Brokers — 2200, 3300 points)
6) Once the profit target triggered a 2-D swap to breakeven
7) If a warrant is not activated and the Parabolic SAR jumped up again — warrant pending delete, and consider options for deals in sale!
Conditions for making deals to sell, according to the rules of forex strategy «Defile SAR»: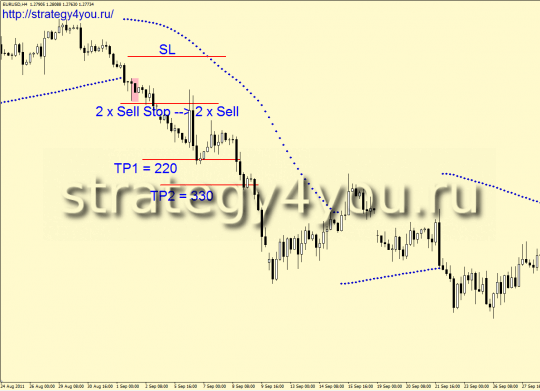 1) The points indicator Parabolick SAR jump higher prices
2) formed after the breakdown of at least (2 candle closed above the minimum candle closed after the breakdown)
3) exhibits two pending orders Sell Stop below the minimum price the educated
4) Stop-loss is set at a distance of 150 basis points from the price of pending order Sell Stop
5) Take-profit 1 — 220-point profit target 2 — 330 points
6) Once triggered profit target number 1, 2-d swap to break even
After a visual test of history for 2011, spread the approximate statistics on the above strategy, forex:
Indent orders for 10 points, all other parameters as well as in the strategy.
1) Stop-loss — 7 to 300 basis points (as of 2 orders), in the end a total loss = -2100 points
But in this case, when the price was just right to almost minus a couple, in other cases at least a profit of 90 — 160 points and the price varied, that is, with a strong desire and can be independently rearranged deal to breakeven or to close one of them with minimal profit.
2) Profit deals — 12, 10 of them by 550 points (2 orders 220 + 330 points) + 2 to 220 points (closed 1 deal, and the 2nd in zero), the total profit = 5940 points
The difference is: 5940 — 2100 = 3840 points!
Just want to warn you that in my calculation may be inaccurate or some mistakes, if you wish better check yourself!
The total number of transactions 19, the average profitability of the transaction (double) = 3840/19 = 202 points or 101 point on the warrant.
The average profitability of forex strategy «Defile SAR» = 3840/12 = 320 points per month
Of course, many traders are accustomed to chasing huge profits from the 500 points, but I personally think that this is an excellent and very simple startegiya Forex does not require much time and is suitable for those traders who prefer to sell more long-term, but stable.
By this I thank the author of an interesting strategy for the next trading system!
This forex strategy you can download the template: defile_sar.tpl

Indicators do not spread because they are in any MetaTrader 4 by default