Forex Strategy «Method of 4 indicators» consists of a yet another trading system using popular indicators forex that are available in any commercial terminate MT4: 2 medium EMA, ADX, as well as the MACD.
And so, set the schedule for the chosen currency pair, which can be absolutely any forex indicators following:
Exponential Moving Average EMA with a period of 7, choose the color blue
Exponential Moving Average EMA with a period of 21, choose the color red
indicator ADX (14)
Indicator MACD (12,26,9), better suited MACD-combo
The recommended time interval — 1 hour (H1).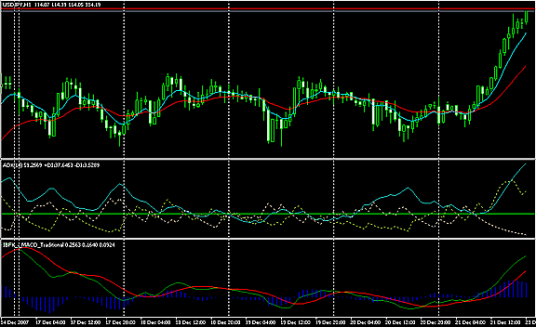 Enclose a deal to buy after moving average 7 EMA moving average crossed 21 EMA and the ADX is struck level 25 upwards, and there is, and forex indicator MACD indicates a bullish trend (rising).
For the conclusion of transactions on sale — just the opposite.
Very carefully to make sure that the ADX is above 25.
Stop-loss set of local minima, or for the important Fibonacci retracement levels.
Rules out of the trading position of forex strategy «Method of 4 indicators:
Block trading position as soon as the average 7 EMA crosses 21 EMA high in the opposite direction. For safety net trade position, use a trailing stop (the parameters depend on the chosen currency pair).
Profit target set at the local minimum or maximum, or use for setting goals Fibonacci extension.
Just carefully study the indicator MACD before a deal if it is consolidating — not worth selling, it is better to refrain from entering into transactions.