In the universal strategies forex Fractal and Camarilla trading is for any currency pair, time interval — the same can be any (but preferably not less than 15 minutes, because at smaller intervals in the forex signals are not stable enough, but if you want to trade at smaller intervals — looking for confirmation of a trend at large intervals).
By enabling the chart Metatrader 4 Forex following indicators:
Forex Indicator Camarilla (download may at the end of the strategy)
Forex Indicator Fractals (installed by default in MT4)
Forex Indicator Stochastics (Stochastic Oscillator) (with parameters% K — 9,% D — 3, slowing down — 3, the type of averaging (method MA)-Weighted (WMA) — installed by default in MT4
Description of indicator forex Camarilla:
This indicator forex divides the space in the chart on 7 areas:
H5, H4, H3, pivot — Pivot, and L3, L4, L5.
In order to successfully trade on the forex strategy you need to understand what is happening with the price in the market as we approach the levels of indicator Camarilla.
How can identify the rebound: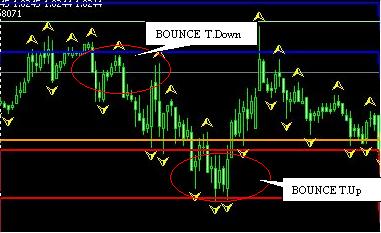 Rebound is considered confirmed if the combination of candles near the line indicator forex Camarilla forms a «triangle-up» (T. Up) or «down triangle» (T. Down), tends to be 2 or 3 attempts to break through this level until you see this pattern.
How to identify the breakdown:
Signal to the probe appears then as soon as the candle crosses the line and the next one candle goes in the same direction as the previous one.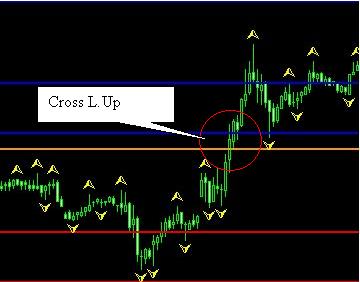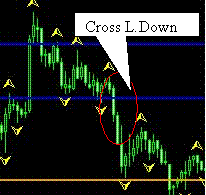 The main secret of fractals:
In fact, in itself a fractal has the same features as the indicator PSAR: ie need to buy, just as it appears below the candle and need to sell as soon as it appears above the candle, but in real life we can not trade successfully, if we open the deal every time you receive a new fractal.
Signals the opening of trade on forex strategy on Fractal and Camarilla:
In conjunction with the indicator forex camarilla — Fractals have great potential for application in the forex market. Once the price on the chart form fractal near the camarilla and still and there is a pattern, «T. Up «to conclude a deal to buy with setting Take-profit at the next line indicator camarilla and stop-loss below the newly formed combination of» T. Up «
For greater certainty to trade I recommend to use the trailing stop (this is also very well suited «trailing stop on a trip, Advisor for MT4», which can trail any orders, even those that you set for yourself — to enable this feature — Ask the seller about how to activate it).
Need to sell up to a «contrary».
Indicator Stochastics «(Stochastic Oscillator):
This indicator forex is not prevalent, but it helps determine whether you open a trading position.
Conclude a deal to buy if the stochastic is below 50.
Conclude a deal to sell when the Stochastic is above 50.
All of the forex indicators should be used together.