Forex Strategy 4H Box Breakout (developed primarily for the currency pair GBPJPY and trade is conducted on the range H4) is very, very simple to use and capable of bringing traders earned an average of about 1000 points a month, although it is based only on plotting!
Although forex strategy 4H Box Breakout and was designed for the currency pair GBPJPY, but it is possible to adapt and under other currency pairs.
And so to begin to draw a «box» that connects the maximum and minimum of 1-st closed candles on a 4-hour chart after the opening of the new week (on the schedule — the blue region).
For examples, see the picture (for a larger image — click on it — will open in new window):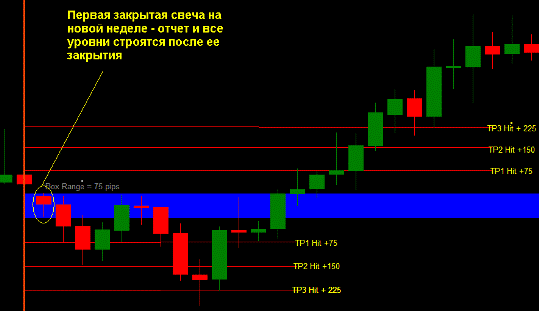 Terms of Business Strategy Forex 4H Box Breakout:
We are waiting for closure of the first 4-hour candle after the opening of the new week.
Expose pending orders at the horizontal level box + 10.8 points
Or discover a bargain for the purchase of the breakdown of newly formed weekly «box up.
Or open the deal to sell the breakdown of newly formed weekly «boxes» down.
Safety stop-loss must be installed on the opposite side of the box + 10-20 points.
Take-profit has several goals for profit and can be either fixed or you can close the deal when the sides respectively TP1, TP2 and TP3.
TR 1 — the size of the resulting «box».
TR 2 — 2 x size of the educated «box.
TR 3 — 3 x the size of the educated «box.
You can of course profit is fixed at TP1, but usually (in most cases) the movement in the market is more than the target very TP1, the more you should always remember that the rewards of the transaction should always be openly accepts the risk (and preferably 2-3 times) — one of the most important factors of profitable trading in Forex.
So basically recommend to use for closing the trade position level TP2, but if you notice that some of the price level is still continuing its upward movement — it is better to wait for the breakdown level of TP2 to pick up big gains on open trade. Or, as mentioned above — perhaps closing the deal on parts such as 30% for each level, but do not forget, after reaching the level of TP1 and closing 30% of the transaction, rearrange the remaining 70% to breakeven.
Advantages of forex strategy 4H Box Breakout:
It absolutely does not require that the trader was always in front of the monitor.
There is absolutely no complicated indicators to understand the forex market.
Profit opportunity very more than taking risks on every open transaction.
It is very, very easy to understand and to trade.
Report on Trade Ad
viser
4H Box Breakout:


Report on Trade Adviser 4H Box Breakout_ver.2: