4-7 GMT Breakout Strategy Forex intended for the currency pair GBPUSD, timeframe for convenience, choose M15.
And so it outlines the period in the form of «boxes» from 04.00 to 07.00 GMT on the maximum and minimum price (for convenience can download the indicator ant-GUBreakout_V.0.4.2.ex4 at the end of this strategy forex).
Conditions for concluding transactions
1) Then at a distance from 0 to 5 points in expose to 2 pending orders on each side (equal lots, but if you want — it is possible to experiment with the volume of transactions) on the breakdown of the «boxes».
2) Correspondingly — 2 Buy-stop — to Buy and 2 Sell-stop for Sell.
If the price breaks the box immediately after the closure of the candles in 06.59 and 7.00 at the opening of a candle — to contract in the direction of penetration of «boxes»!
3) Take-profit number 1 — 30 points.
Take-profit number 2 — 60 points.
4) Stop-loss set at the opposite side of the box. Once the price goes over 30 points and one warrant closed with profit, then swap the second in «zero»!
5) Did not work warrants are removed at 18.00 GMT!
That's the whole strategy.
Further examples only see transactions (for clarity):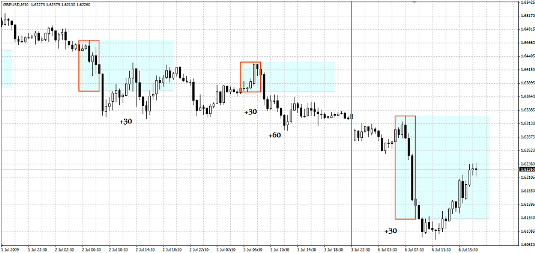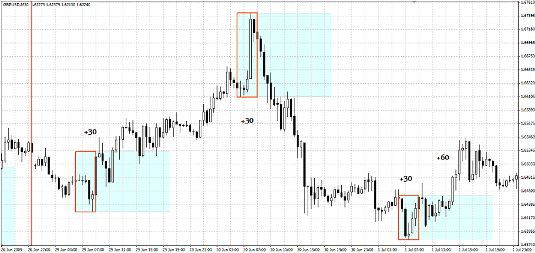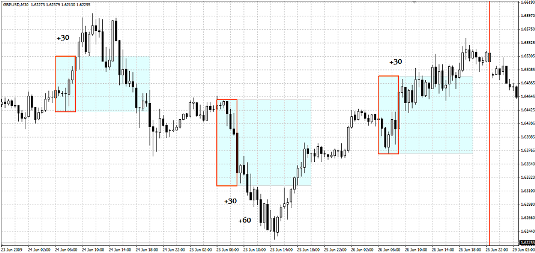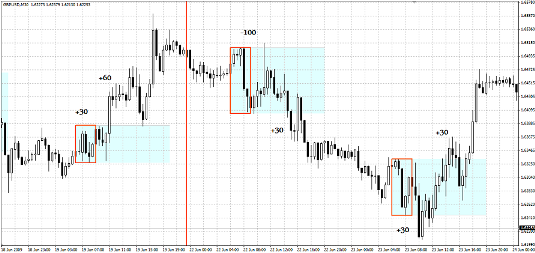 And some statistics:
Subject to the closing of only one profit +30 points on the breakdown of «boxes» 4-7 GMT from 16 March to 17 July 2009 for the currency pair GBPUSD profit amounted to 1,700 points! (4 months)
Here's the schedule of return: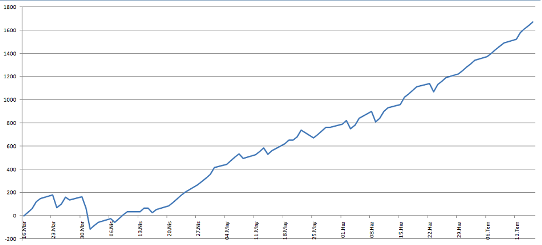 Video with example:
Download Forex Indicator for Metatrader 4 — ant-GUBreakout_V.0.4.2.ex4

Parameters of the indicator as follows:

GMTShift — shift time of your broker from GMT (for example Alpari — 2)
Start — the start time «boxes» (4)
End — End Time «boxes» (7)
Offset — offset from the box to be placed orders (in our case, from 0 to 5)