Forex strategies at the MACD and Inside Bar
— a simple strategy of
following an already formed trend-movement in the forex market
, currency pair — either by a time interval can choose as desired, because these patterns are formed at all intervals.
Formation Inside Bar — the case where the price chart appears Bar (candle) with lower highs and as higher minimum than the previous bar on the graph. Typically, this pattern is interpreted as a small respite on the forex market, at a time when the market is in a state of uncertainty of further price movement. Break is this «inner bar» is usually quite volatile movement.
Conclusion of a deal to buy:
Indicator MACD is above the zero line — above the maximum price formed the «Inside Bar» has a pending order Buy-stop (+ Spread). It follows that we expect the breakdown of the prices up, because MACD indicator is currently in the area shopping.
In the cases as soon as the MACD indicator is below the zero line and there is an «Inside Bar «, then we only fit to sell at the lowest price + value spread.
A safety stop-loss order is placed under the minimum of the «Inside Bar» for the transactions for the purchase and over the maximum «Inside Bar» for the transactions for sale. Although this value is usually small, but it is quite sufficient for trading on the forex strategy, while the ratio of risk to profit very good.
 
To go out on the strategy recommended by trailing stop.
Important addition: should only be used inside bars when the trend. In the case of lateral motion of all the «Inside Bar» should be ignored.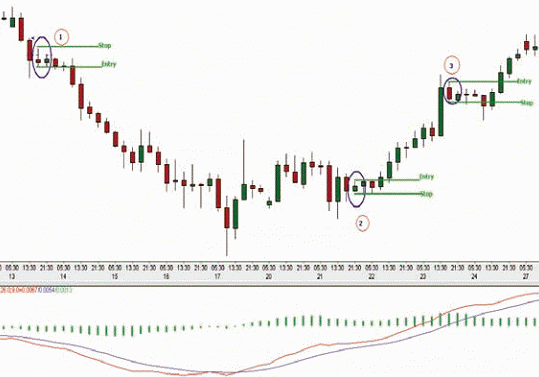 Consider the examples in the picture:
1) MACD histogram are under the zero line, and as we have a bullish crossover on MACD, moreover, they are below the same zero line. Consequence, the appearance of internal bar, we count with a pending order to sell below the low of the inner bar. A safety stop-loss — over a maximum internal bar.
2) We note that happened intersection from the bottom up and the MACD histogram rose above the zero line. This indicates upward momentum. Correspondingly in this case we place a pending order to buy the appearance of internal bar. A safety stop-loss — a minimum of internal bar.
3) In this case, was set a buy stop, according to all rules of this strategy, forex, which also worked out nicely in this case.