Skalping Forex Strategy for the interval M1 (1 minute) — «FX Prime»
Currency pair — any
Time interval — M1
Used forex indicators: Fibo, Pivot, CCI, RCI, Heiken_Ashi_Smoothed, EJ_CandleTime, DoublecciWoody
Volume of transactions — depending on the size of the deposit (3-5% of acceptable risk for each transaction)
Dealing Centre — I recommend forex brokers with small margins of acceptable prices (2-5 points) — it is quite suitable Forex4you
Algorithm forex strategy «FX Prime»:
This forex strategy allows me to more than 80% of profitable trades when trading skalpingovyh.
Trading should be between 9:00 and 17:00 Moscow Time (in winter time). Safety stop-loss for each position — 10 points.
I propose the following rules for opening a trading position:
Open a deal to buy — a long position if: 1. Indicator SCI 170 is above 0 line and shows the trend is up (this forex indicator crosses the first line of 0). 2. CCI indicator 34 is also above the 0 line and showing the direction of the trend up (it crosses the 0 line in the same direction 2-m). 3. The RSI is over 55 — this is important, do not open the bargain, if the indicator forex RSI is located in a zone of 45-55! Trade in this area is very dangerous, pozhdite crossing the line 55 in the direction of the trade.
Open the transaction on the sale — EVERYTHING NAOBROT!
Several very important observations:
should never be traded against 5-minute trend! If the M5 (5-timinutke) trend is downward, and you have to minute price chart signal appeared up, do not open the bargain, it's just rolled back, discover a bargain only after the price drops, and give you a sell signal ! Keep the price at the direction of the trend up — did the top and bottoms, and trend downward. A good helper for this forex strategy would be «trailing stop on a trip, Advisor for Metatrader 4″ — will help to quickly rearrange the transaction in the» zero «or trail on the very short distance (at least 1 point).
Example of a trade transaction strategy Forex «FX Prime»: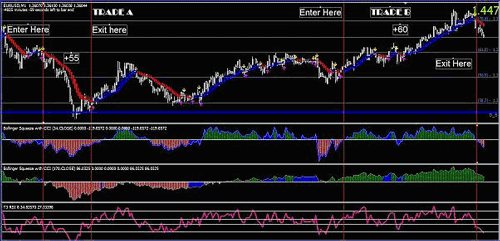 Closing the deal as soon as the Heiken Ashi indicator is a different color, or as soon as the CCI crosses the 0 line in the opposite direction, or stop-loss — it's already to you — practice on a demo account.
Necessary templates (tpl) and forex indicators for Metatrader 4 — Forex strategy for skalpingovoy «FX Prime»: