Skalping simple forex strategy — one is very simple, without indicator forex strategy, based on a system of 3-screens, which nonetheless can conclude very good deals that are more likely to be profitable, and with proper risk management and strict adherence to straightforward rules This forex systems — earn on Forex!
Currency pair — any, that This forex strategy is multi-currency!
This forex strategy can be described only by 3 lines:
1) Look at the last candle on the 4 timeframes: M5, M15, M30 and H1
2) If all the past, which closed green candles — buy!
3) If the latter, which closed red candles — sell!
For clarity, suggest to consider an example (for a larger image — clicked the — opens in new window):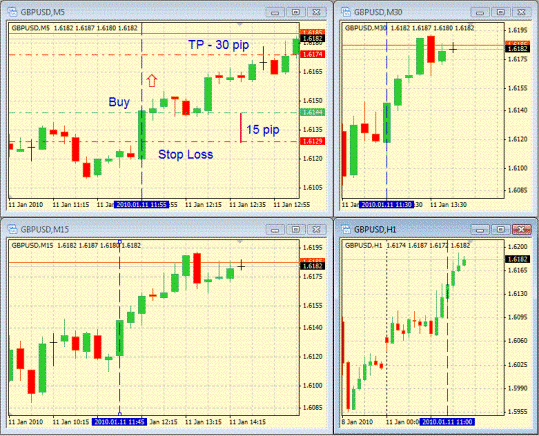 Create a trading terminal 4 windows of the same currency pair, for example GBPUSD, with different timeframes: M5, M15, M30 and H1. For clarity, the menu item Metatrader 4 «Window» select «Vertical», then all 4 of the screen will be placed on the trading terminal poporyadku in adjacent boxes, approximately as shown:
All are now waiting for all the latest candles will be shut down as the green — to buy or red — for sale.
Describe, to clarify all the terms and conditions in the figure above:
1) on the interval H1 11-hour candle closed at 12.00, in green.
2) go to the range M30 — 11.30 candle closed just 12.00 in the green.
3) go to the interval M15 — candle 11.45 just closed at 12.00, in green.
5) go to the interval M5 — candle 11.55 closed at 12.00, the same green.
All terms and conditions of this strategy are made — we conclude a deal to buy at the current price!
On the example of course is an ideal example, but if, for example, H1 and M30 conditions are fulfilled, and the M15 was closed in red candle, then wait for the next candle.
Remember — before entering into transactions in the range M5 — always check whether all painted close of the previous candles in one color! — Only in this case opens a trading position.
Stop-loss and profit target:
1) establish a fixed stop-loss at a distance of 15-20 points of entry into the market. In this case, take-profit is equal to 30-40 points. When the price reaches 15 pips — move the stop-loss to breakeven or fix a part of the trading position or fully close the deal. Likewise, if you choose to use the trailing stop (standard, built-in MT4 or Universal trailing stop).
2) Stop-loss is placed under the nearest local minimum (fractal) — for the transactions on purchase or on the nearest local maximum (the inverse fractal) — for bargains on sale. A profit target for this to be possible, at least 2-3 times greater than the stop-loss. Profit on the same scheme as described in paragraph (1).
Download a template for Metatrader 4 (pre-need unzip) — skalping_4.tpl
Warning — this is a template for all of the 4 time-frames, it must be set equal to 4 currency pairs, but at different time intervals!