Forex Strategy «Two lines» — is quite simple, but interesting, in my opinion, forex trading strategy, based on 2 moving average, the currency pair can be any, but the expert testing forex trading forex strategy for this was successful only in two x-pairs: EURUSD, GBPUSD, timeslot — H1, this strategy has been sent to the trader Merzlyakov Paul, he tested and which sells itself.
On the schedule for the chosen currency pair, you must set the following indicators forex:
1) Fast Moving Average of period 3 and the shift of 0 — LWMA (linearly weighted moving average), based on prices Low — paint it for clarity in the red
2) Slow moving average with period 17, shift 2, averaging SMMA (smoothed moving average, based on price (high + low + close) / 3 — paint it blue
The strategy forex «Two Lines» is the following.
Opening of the transaction to purchase:
1) We are waiting for the moment when a candle closes above the slow moving average — the average blue line with a period of 17 on the chart
2) in this fast moving average has not yet crossed the slow average upward (blue secondary). If the condition is satisfied, then we set 2 pending order to buy at the price of High closed candles above the blue moving average.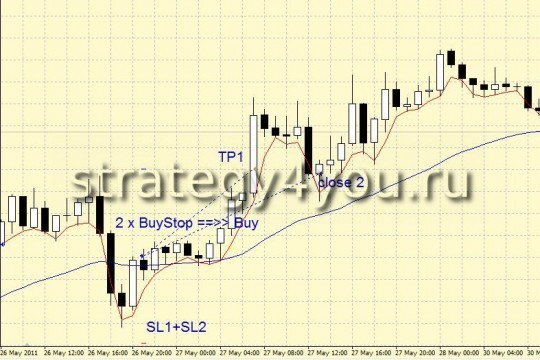 3) Stop-loss set at the minimum of the same candle, which crossed the moving average, or in fixing the value at around 100 for the currency pair EURUSD (for 4-digit broker, such as Forex4you and 1000 points for Alpari — 5-digit broker forex )
4) Take-profit order is placed first on the value of an already established stop-loss, take profit of the 2nd order was not placed at all, and close the warrant on the terms of the following paragraph:
5) Close the trading positions if the hourly candle closed below the fast moving average — the red or the stop-loss, 1st order for take-profit.
Do not remove the pending orders are opened, if the hourly candle closed below a moving average.
6) After 30 points after the opening of trading positions, open orders translate into the level bezubytka and install on a trailing stop for the last 6 shades of candles, that is, in the shadow of the 6 th closed candles.
For transactions on sale — check the conditions: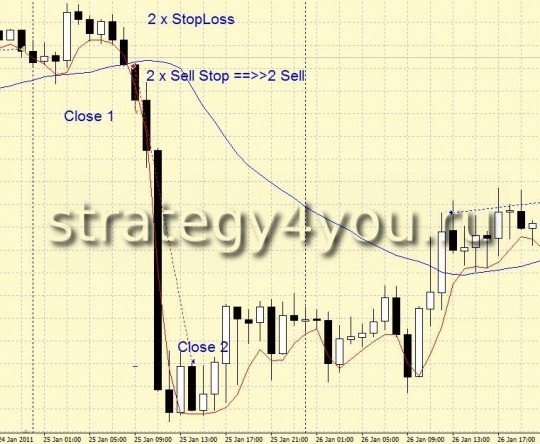 But it should be noted that this forex strategy testing showed that only works well in the direction of buy, and sell to the side is much worse, so the price of the slower moving average is to take the low spark and only on the basis of this largely deals are obtained at buy. For sell transactions is very small, and then, basically, if the price goes sharply to the side sell.
This forex strategy you can download the template Metatrader 4 — 2line.tpl
Forex indicators do not spread because Moving Averages (LED Moving Average) is in every trading platform Metatrader 4.
Preliminary tests
of forex strategy «
Two lines
«:
1) test forex strategy «Two lines» — EURUSD (H1) with the help of adviser 2Line: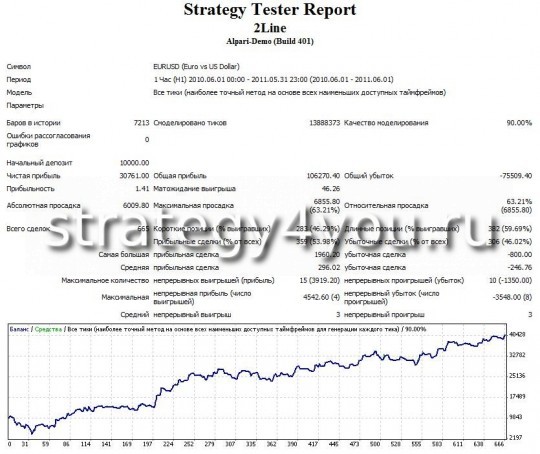 2) test forex strategy «Two lines» — GBPUSD (H1) with the help of adviser 2Line: