Forex Strategy «4 indicators» was sent to the site visitor, who did not want me to publish his name, but under the terms of this strategy was created adviser, and he showed very good test, you will be able to see the end of the forex strategy, based on the signals of four Forex indicators for Metatrader 4 trading a pair of EURUSD (M5-H1).
First of all, set in the following chart of EURUSD forex indicators:
1) moving average with a period averaging 90 Smoothed and apply it to a Close
2) The CCI indicator with a period of 12, set the same levels of 100 and -100, -50 and 50, apply to the Typical
3) The indicator ATR 14 period and set the level of 0.002
4) Indicator Williams Percent Range, between 11 levels of -15, -85, -40 and -60
Terms of the deal to buy:
First, one must remember that the transaction in this forex strategy are only after the confirmation of all forex signal at the close of the candle!
1) Price is set at the chart above the moving average
2) Indicator Williams dropped below its level of -85
3) The indicator CCI (12) is below -100
4) ART above .002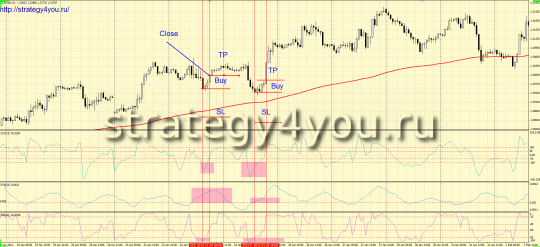 For transactions on SALE:
1) Price is below the moving average
2) Indicator Williams closed above the level of -15
3) The indicator CCI (12) also closed above its 100 level
4) ART (14) is above its level of 0.002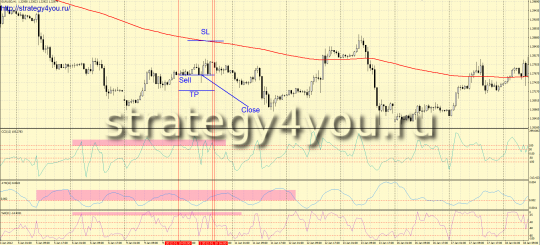 5) Stop-loss is set for transactions for the purchase and sale transactions for a distance of 100 points for the 4-digit broker, such as Forex4you and 1000 points for 5 digit broker like Alpari
6) Take-profit set at 40 points for the 4-character or 400 for a 5-mark!
I agree that the ratio of stop-loss to the take-profit did not correspond to the correct rules of Money Management in Forex, but that there is something there, but you really up to you, to trade on the forex strategy or not …
7) Closing of the transactions:
— The stop-loss
— The take-profit
— For transactions Buy: Williams if the indicator is secured above its level of -60, swap transaction in the level of bezubytka or close it immediately. That is, we look if the transaction is in the red when the value of Williams> -60, we wait until becomes zero and close a deal with zero if williams was> -60 and a deal is already in positive territory, closing immediately at the current price.
— For transactions Sell: when Williams locks down to -40, just swap transaction in the level of  «zero» or close it immediately, like shopping, but if Williams <-40.
Kommentry programmer forex strategy:
«It turns Advisor, trading on the forex strategy and takes a lot of deals with small profit margins and rarely comes up, but when we buy a downward spiral has already occurred, respectively, a correction, which we take a small profit, and basically the market is always go to this correction and does not go to the stop. Look at how the graphics to a very nice, very often at the bottom of purchases and sells at the top, though often closes early sdleka, does not reach the price to profit, which would just worked. «
— Close Buy when CCI returned from above and was less than -50
— Closing Sell if the CCI returned to the bottom zone is greater than 50
That's basically all the conditions of forex strategy «4 lights» …
Also, it can be downloaded:
Template for MetaTrader 4 — 4_indicators.tpl

Forex indicators do not spread because they are in the standard configuration of the terminal MT4
If you follow all the rules of forex strategy «4 lights,» that since 2005, when the test advisor forex 4Indicators, we obtain the following reports:
In the range H1: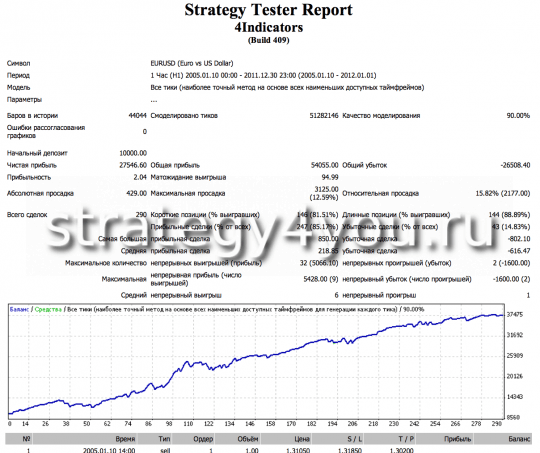 In the range M15: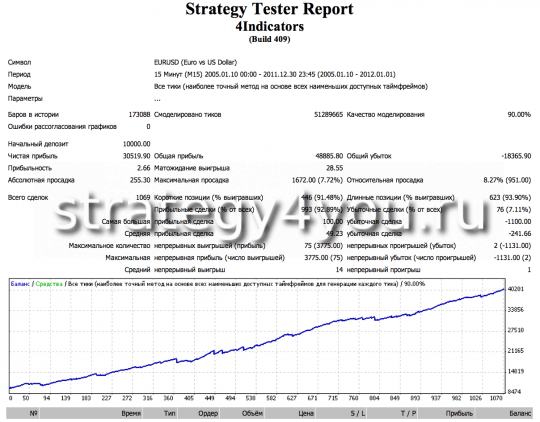 Test advisor forex in the interval M5: