Forex Strategy «Pivot + 3 EMA + PSAR» — trend trading strategy based on rebound from important weekly Pivot — levels, the currency pair can be any of (but is better suited GBPUSD), trade is conducted on a combination of 2 timeframes: hours — H1 and fifteen minutes — M15.
On the schedule for the chosen currency pair, you must install the following indicators for Forex:
Indicator, expecting weekly Pivot-levels — PivotWeekly.mq4
parabolic indicator — Parabolic SAR (step 0.02, maximum 0.2) — will use it on the hourly chart for the rearrangement of stop-loss.
3 exponential moving averages: EMA (7) — Green, EMA (14) red, EMA (21) — blue. All of these averages should be applied to close.
These moving averages will only appear on the range M15 — they will give us a more accurate signal to enter the market!
Now let's look at the rules by which we will enter the market, according to the terms of forex strategy «Pivot + 3 EMA + PSAR»:
Open the time schedule — H1, in it we see the vertical lines of different colors with the signatures of W_Pivot, WS1, WS2 …, WR1, WR2 … — this week's pivot points with support and resistance levels for the price on our chart.
1) waiting for the moment when the price on the chart is suitable for any of the levels and pivot points-rebounds from him within one candle (a maximum period of 3 candles), but it's still one!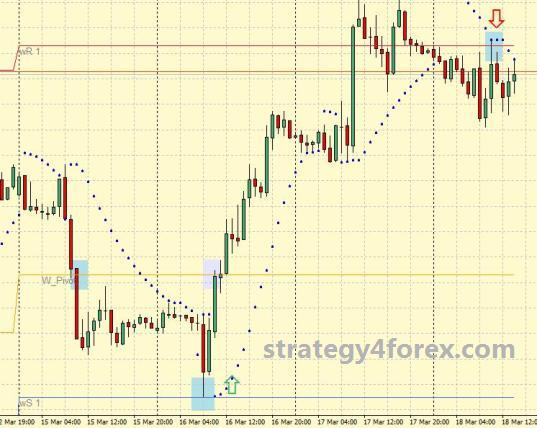 2) As soon as we noticed that the price jumped back and watch the candle closed above the pivot points (if the price went above), we went to 15-minute chart.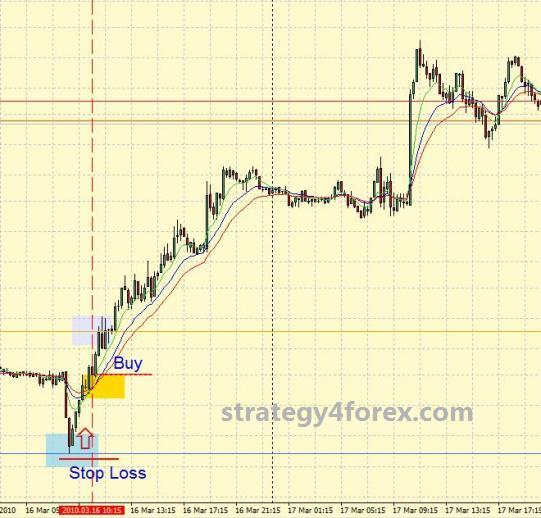 If the moving average EMA (7) (green) has crossed and closed above the 2 moving averages at the close of M15 candles (when prices rebound in H1 up) — we conclude a deal to buy!
3) stop-loss order is placed under the nearest local minimum. And then move on to the interval H1 and move the stop-loss on the indicator parabolic (PSAR) after the close of each hour.
4) take-profit is not set, and optionally fix part of the deal in important pivot points-levels (following the course of movement of the price). Still, the deal closing on stop-loss (or a positive stop-loss) in PSAR.
For transactions on SALE — inverse condition!
Note: the indicator and template for Metatrader 4 prior to decompress!