Forex Strategy of PRESS is very simple and was sent to me by the visitor to my site with a nick PRESS (Vadim DOSTOVALOV Yekaterinburg, Russia), he recommends using this trading system on a currency pair GBP / USD, the time range: 5-minute (M5)
And so, above all, the chart GBPUSD (M5) you must install several Forex indicators:
1) simple moving average SMA (8), applied to a close — is installed on the price chart GBPUSD
2) Indicator MACD (5, 8, 9)
3) Indicator P. SAR (0.1, 0.11) — is installed on the price chart GBPUSD
4) Indicator P. SAR (0.1, 0.11) — is installed on the chart MACD — the method of application of indicators in the Forex MT4
To add P. SAR in the chart MACD indicator is required Parabolic_SW.mq4 (You can download it at the end of the strategy forex).
For ease of installation Forex indicators of this strategy forex, use the template Metatrader 4, which also can download it at the end of the strategy forex.
Forex Trading Strategy from PRESS, should be in the most active hours — London and New York!
The conclusion of the purchase deal (BAY) on the strategy of forex PRESS:
1) Most of the at least one closed a five-minute candle is above the moving average.
2) Points indicator P. SAR and the price chart and the indicator MACD, are located below.
3) Bars MACD are above its zero line (including the moving average of the same indicator MACD)
4) The initial stop-loss are putting at a distance of 20 items from the entrance to the market (for DC with a 5-digit price quotes — such Alpari — 200 points). Or above 2-nd point indicator PSAR (from last).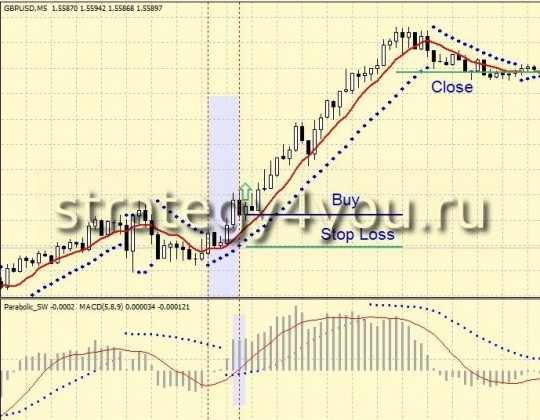 5) Take-profit not set! Exit the transaction takes place only at the stop-loss (profit-making or negative).
6) Once the profit is 15 or 20 points, stop-loss translate to break-even point (Forex Video and description in Russian). If you prefer, you can use trailing stop (built-in Metatrader 4 or universal trailing stop, where there are trailing by PSAR).
7) Next stop-loss you need to move beyond the price on the second point of the indicator P. SAR, as the first (that is, the new one) often force the price. If the P. SAR jumps up and stop-loss is not successful, wait for further developments, if PSAR again hurdle for the price — we continue to move our stop-loss for the 2-nd point PSAR.
For a deal to SELL (SELL) — inverse condition!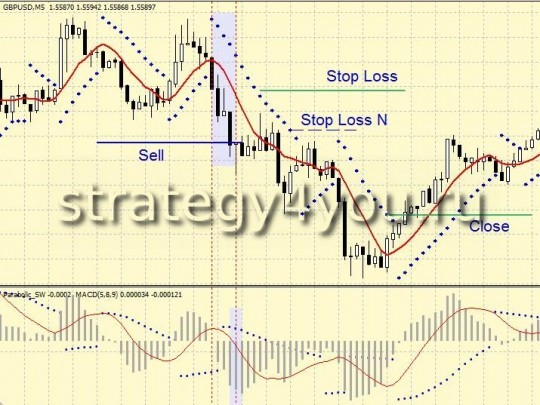 Stop Loss N — an intermediate stop loss, move on the 2-nd point indicator Parabolic SAR, which in this case did not work and the price has gone further and trading position was closed at the «Close».
Additional conditions:
It should not be traded on the forex strategy before entering the important news — here as lucky …

Note: the indicator and template Metatrader 4 before installing the trading terminal MT4 (forex Video and description in Russian), you must unzip!
And of course I'd add that a necessary condition for profitable trading in forex, is the observance of the rules MANI MANAGEMENT (video lesson on the calculation of risk in forex and description in Russian)!