Forex Strategy «FLAT Bollinger Band System» is designed to trade on the interval H1, the currency pair — any;
On the schedule for the chosen currency pair, you must install the following indicators forex (all of them are by default in any trade terminal Metatrader 4):
The indicator Bollinger Band (perion — 24, the deviation — 2, HLCC / 4) — the color blue indicates a trend for 24 hour schedule — day.
indicator Bollinger Band (period — 120, variance — 2, HLCC / 4) — color — red, indicates the trend at 120 hours schedule — week
The indicator Bollinger Band (period — 480, variance — 2 HLCC / 4) — orange color indicates the trend at 480 hours schedule — on the monthly.
Simple Moving Average — SMA (4), apply to close
Simple Moving Average — SMA (8), applied to close
Here's how some would look like your schedule, after installing all the indicators (for convenience, you can use a template for MT4 — you can download it at the end of this strategy forex):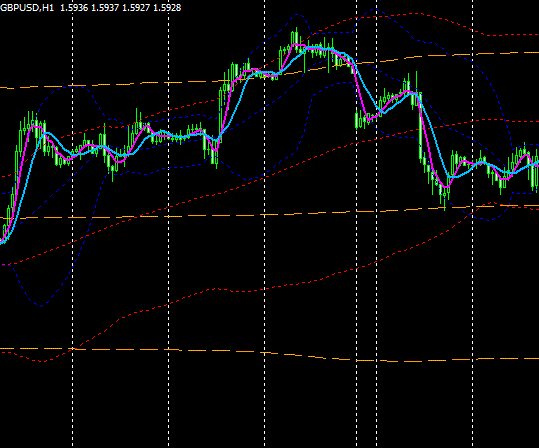 To enter the market, you should check any of these 3-Bollinger on «condition renge», ie if at least one of them narrowed and its lines in parallel, then you should consider this currency pair in the search for signals for bargaining. If parallel lines do not — go to another currency pair.
Then determine whether the price is now at the lower boundary of parallel poloss Bollinger or the upper boundary of the Bollinger Bands. If the price of, for example, went to the upper band of explosives and jumped on them and this signal podtverdzhen intersection of SMA (4) and SMA (8) — should make a deal to sell at the opening of the next hour candles.
If the price went up to the lower-band band and jumped them up and this signal confirmed intersection SMA (4) and SMA (8) — should be a bargain purchase.
Stop-loss orders are placed above the maximum price after rebound from BB — for sale. And below the minimum bid after rebound from BB — to buy.
Close the deal after a reverse crossing of 2 simple moving average SMA or on the opposite border, or the midline stripes BB older period. For BB (24) — aim BB (120) to BB (120) — target opposite border or centerline BB (480).
Example look at the picture: