Price Action MORNING STAR Pattern trading strategy [Signals, Formation, Trade Examples] — Today we will look at another Price Action pattern as well as a candlestick formation — MORNING STAR.
This is a fairly simple but strong signal for making a deal in any market: forex, cryptocurrency market, stock market. It tells us that the trend may change after its formation.
What is MORNING STAR Pattern?
Morning Star — is also a pattern that usually forms at the moment of at least a temporary trend reversal in the financial markets, as well as at the end of corrective movements on the charts of any financial instruments. The model consists of 3 candles (see the example below):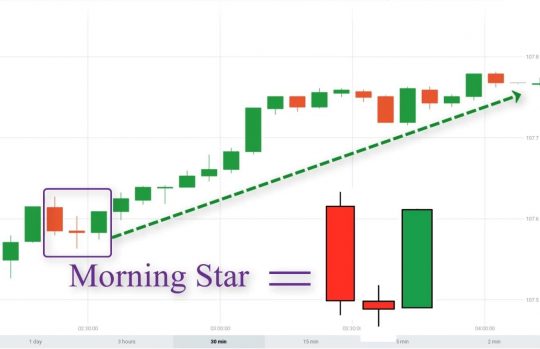 The main condition for the formation of the model is that the 2nd candle should have tails as similar as possible. The size of the candle does not matter.
The deal is opened after the close of the 3rd candle of the pattern.
Stop and Profit:
1) Stop loss — below the low of the 2nd candle for sales (this is the best option).
2) Profit — there are options:
1 to 2 or 1 to 3 relative to the stop loss.
At important levels (1st and 2nd profit).
We expose on Fibnacci from the last movement.
Other methods are channels, trendlines, Fibonacci extensions, etc.
That's all I wanted to tell you about the MORNING STAR Pattern, then I attach examples of trading in the video: