Forex Strategy 4H Fibo + MA — worked well when trading for all currency pairs on a time-frame H4, there is only one indicator forex — MTF Moving Average (it allows you to visually see the current daily trend) and one of the most useful tools for the trader, I believe — Fibonacci.
Installation indicator MTF Moving Average the following: TimeFrame — 1440, MAPeriod — 1950, Shift — 0, Method — 1, Price — 0.
The strategy 4H Fibo + MTF MA is as follows:
1) The graph for the chosen currency pair (in the range H4), we find the latest upward or downward movement, which does not restore the 38.2% Fibonacci.
2) Rasstyagivaem Fibonacci on the extrema of the motion (maximum and minimum) at this time.
3) We are only interested in two important levels: 38,2% and 61,8% Fibonacci, or rather otboi price from these levels.
4) If the market is downward, we set two pending orders:
Sell Limit the level of 38,2% of Fibonacci, and stop-loss set at the level of 61,8%.
Sell Limit at 61, 8% of Fibonacci, and stop-loss set at 100 points.
For transactions to buy (the market upwards) — install a warrant Buy Limit-s at the same levels and with the same stop-loss.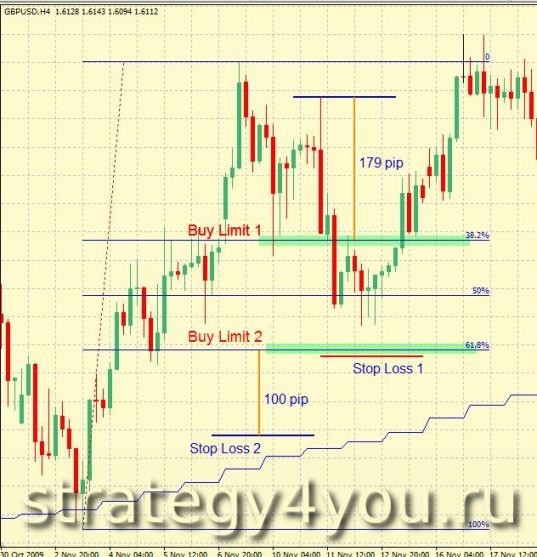 5) Always look at the display MTF Moving Average and the deal should be concluded only in the direction of the daily trend (this indicator and it shows).
If you dare to trade against the trend — then put a fixed take-profit that should be garazdo less than for trade with the trend and also do not forget as quickly as possible to translate the position of «zero» level.
Although it is better to only trade with the trend!
6) For profit recommend using a trailing stop at a distance of 75 points. For more volatile pairs — a trailing stop at 100 points.
Transaction should be covered only by stop-loss or trailing stop. But if you want you can close part of the deal on the important levels, or census-level «0.0» on the Fibonacci sequence (for example 50-70% of the transaction).
Here are some statistics, and although it's a bit old, but I think that at this point in time, this strategy will work just as good as important Fibonacci always work well: